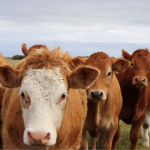 OAHN Bovine Project: Parasitism in Grazing Cattle in Ontario
Recent surveillance project on gastrointestinal parasites in cattle including management and how to help avoid increasing resistance issues
Disease Surveillance Reports
Resources
Dairy
24 Mar , 2022
To download a PDF of this document, please click here: https://www.oahn.ca/wp-content/uploads/2022/03/Salmonella-Dublin-Factsheet-for-Animal-Owners.pdf
Read More >
Beef
24 Mar , 2022
To download a PDF of this document, please click here: https://www.oahn.ca/wp-content/uploads/2022/03/Salmonella-Dublin-Factsheet-for-Animal-Owners.pdf
Read More >
Veal
23 May , 2018
Executive summary, full report, and poster for the OAHN Bovine research project.
Read More >
Podcasts and Veterinary Resources
Public Health and Regulatory Information
18 Nov , 2019
Communication from the CFIA regarding a pilot project to improve Canada's bovine brucellosis surveillance.
Read More >
Helpful Links and Contact Information
Helpful links for bovine producers and stakeholders.
Read More >
08 Oct , 2015
A list of industry and government contacts.
Read More >
22 Jun , 2015
This list of links provides a great starting point for bovine vets.
Read More >
Dr. Cynthia Miltenburg
Co-lead
OMAFRA
Dr. Jessica Retterath
Co-lead
Private Practitioner
Dr. Kristen Edwards
Private Practitioner
Dr. Rebecca Egan
Animal Health Laboratory
Dr. Tim Pasma
Epidemiologist
OMAFRA
Dr. Diego Gomez
Ontario Veterinary College
Dr. Dave Renaud
Ontario Veterinary College
Dr. Scott Robertson
Private Practitioner
Dr. Hannah Golightly
Epidemiologist
OMAFRA
Dr. Tanya Rossi
OAHN Coordinator
Animal Health Laboratory