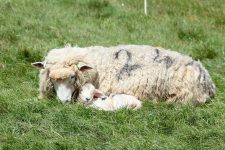 OAHN Small Ruminant Research Project: Investigation of Ovine herpesvirus-2 as the cause of an idiopathic fatal vasculitis syndrome in Ontario sheep
Executive summary and full report about this Small Ruminant Research Project.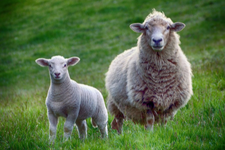 OAHN Small Ruminant Research Project: Comparison of performance of maedi-visna ELISA and PCR tests
This project compared the VMRD ELISA results to results already obtained on samples collected as part of a project investigating the validity of an in-development MVV PCR at the Animal Health Laboratory (AHL).
Disease Surveillance Reports
Resources
Infosheets
28 Jan , 2021
To download a PDF copy of this document, please click here. Managing the risk of malignant catarrhal fever from sheep to bison – FINAL by Ontario Animal Health Network
Read More >
06 Aug , 2020
Tips and tricks for using the McMaster method for fecal egg counts
Read More >
06 Jul , 2020
Click here to download the PDF
Read More >
Research and Projects
31 Mar , 2021
Objectives, summary, and results from the Small Ruminant Network's research project on developing and validating a PCR test for small ruminant lentiviruses (CAEV and MVV).
Read More >
Small Ruminant Abortion Information and Resources
19 Aug , 2020
Chlamydia abortus, Coxiella burnetii, Campylobacter spp. and Toxoplasma gondii are the most common causes of infectious abortion in sheep and goats in Ontario.
Read More >
13 May , 2020
Informative infosheets on toxoplasmosis in goats and sheep.
Read More >
An infosheet guide on safe handling and removal of sheep and goat placentas.
Read More >
28 Apr , 2016
PDF of Dr. Paula Menzies's "Cache Valley Abortion Survey of Ontario Flocks" presentation.
Read More >
11 Feb , 2016
Below, please click the link to view or download the OAHN communication for veterinarians regarding Cache Valley Virus: Cache Valley Virus: A Differential Diagnosis for Lamb Malformation and Pregnancy Loss in Sheep
Read More >
An in-depth look at Cache Valley Virus in Ontario.
Read More >
11 Jan , 2016
Cache Valley virus (CVV) is an arbovirus in the family Bunyaviridae.
Read More >
Rabies Resources
24 May , 2022
View and download this veterinary handout.
Read More >
27 May , 2019
Find videos on how to obtain rabies samples from small and large mammals, as well as the rabies risk assessment flow chart.
Read More >
15 Dec , 2015
A guide on how large animal hospitals can deal with rabies.
Read More >
Government Resources
10 Aug , 2016
Premises Identification Numbers: how to register, and what you should know. It's fast, easy, and every agri-business in Ontario can have one.
Read More >
21 Oct , 2015
Government and industry links for small ruminant stakeholders
Read More >
09 Oct , 2015
A list of industry and government contacts.
Read More >
24 Jun , 2015
This list of links provides a great starting point for small ruminant vets and owners.
Read More >
Podcasts and Videos
05 Jun , 2020
Postmortem examination of dead and skinny goats – A valuable herd management tool
Read More >
02 Mar , 2020
A great video for sheep farmers and veterinarians explaining the importance of post-mortem examination to help obtain a diagnosis.
Read More >
15 Feb , 2017
Link to all OAHN small ruminant podcasts.
Read More >
Dr. Jocelyn Jansen
Co-lead
OMAFRA
Dr. Rex Crawford
Co-lead
Private Practitioner
Dr. Connie Dancho
Private Practitioner
Dr. John Hancock
Private Practitioner
Dr. Cathy Bauman
Ontario Veterinary College
Dr. Jeff Rau
Ontario Veterinary College
Dr. Maria Spinato
Animal Health Laboratory
Dr. Tim Pasma
Epidemiologist
OMAFRA
Dr. Tanya Rossi
OAHN Coordinator
Animal Health Laboratory