Ontario Animal Health Network (OAHN) Bovine Expert Network Quarterly Veterinary Report
Cattle Surveillance Update
There were 232 bovine pathology submissions between November 1st, 2021 and January 31st, 2022 for young calves, older calves, mature cattle, and abortions.  An overview of findings of interest has been summarized.
Age Group
Detections
Adult Cattle

> 2 years of age

•Pneumonia caused by M. hemolytica, P. multocida, M. bovis

•Septic peritonitis

•Cystitis (inflammation of the urinary bladder)

•Ocular squamous cell carcinoma

•Malignant Catarrhal Fever in a 7-year-old Simmental cow with watery eyes and neurologic signs.

Youngstock

2 months to 2 years of age

•Pneumonia caused by BRSV, B. trehalose, P. multocida, H. somni, M. bovis

•Myocarditis/TEME (caused by H. somni)

•Abomasal ulcers/abomasitis/rumenitis

•Abomasal impaction with rupture

•Polioencephalomalacia (due to suspected vitamin B1 deficiency)

•Otitis media (Inner ear infection caused by M. bovis)

•Septicemia (caused by Salmonella spp.)

•Clostridial myositis (caused by Clostridial bacterial spores that in muscle that produce a fatal toxin)

•Adenovirus causing hemorrhagic gastrointestinal lesions
Calves

< 2 months of age

•Pneumonia (caused by BRSV, M. hemolytica)

•Enteritis (caused by rotavirus, coronavirus, cryptosporidium, E.coli)

•Abomasitis/rumenitis

•Arthritis

•Septicemia (caused by E. coli and S. Dublin)

Abortion/

Stillbirths

•The infectious causes of abortion identified were bacterial (n=3), Neospora (n=2), Ureaplasma (n=1), mycotic (n=1) and leptospirosis (n=1).
Salmonella
•Salmonella spp. were isolated from 12 submissions, representing an estimated 11 premises

•Salmonella Dublin was isolated from 5 of these submissions, representing approximately 4 premises.

Bovine Viral Diarrhea Virus
•A total of 208 BVDV tests were performed. There were 10 positive results, most of which were BVDV type 1 (n=8) identified as part of routine herd screening and diagnostic investigations.

•Positive disease cases included:

•A 6-month-old calf with nasal discharge and interdigital lesions

•A 20-day-old Holstein calf with diarrhea, pneumonia, and thymic atrophy

•A 700 lb steer with non-responsive pneumonia

•A 1-year-old Holstein heifer with bacterial pneumonia
---
2021 Salmonella Dublin Summary
During 2021, 38 lab diagnostic submissions to the AHL detected Salmonella Dublin. Among these submissions:
36 detections were on tissue samples collected at postmortem and 2 detections were from fecal samples
1 detection was by PCR test. All other samples were by bacterial culture.
In some cases, more than one sample was submitted from the same farm during a diagnostic investigation. The submissions are estimated to represent 24 separate outbreaks from 20 different farms. For 14 farms, this was their first diagnosis of S. Dublin. This compares to 14 outbreaks and 7 first premises diagnoses in 2020.
As of December 31, 2021, it is estimated that 78 unique premises have had Salmonella Dublin detected, of which 35 are veal, 42 are dairy, and 1 is from a beef operation.
The age of cattle included on submissions between 2012 and 2021 was summarized (Figure 4). Ages were available from 162 of 198 submissions. The data shows a peak in the 1–2-month age group and few animals identified as a fetus among laboratory submissions. This is intriguing when contrasted with data recently released from British Columbia1 where fetus and 0-2 weeks were more frequently represented.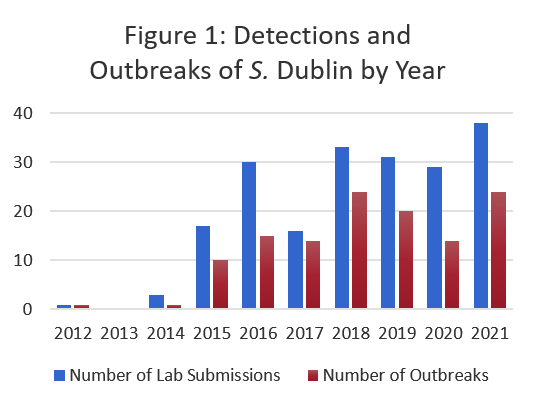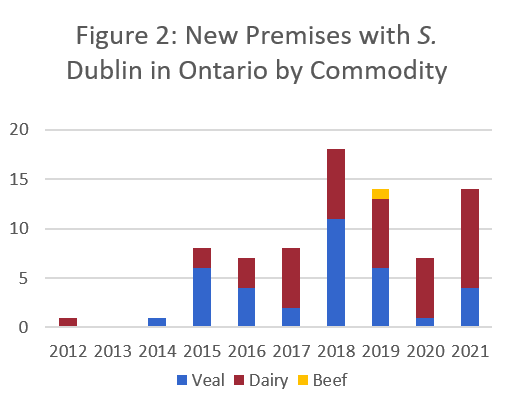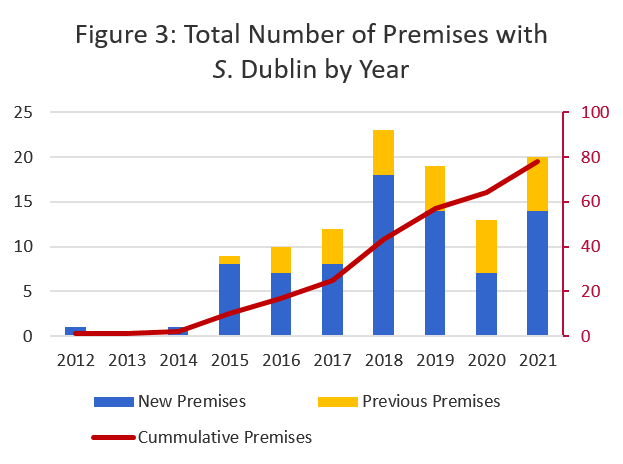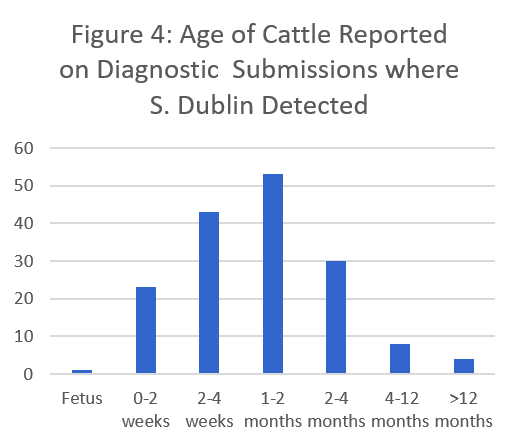 Reference:
https://www2.gov.bc.ca/assets/gov/farming-natural-resources-and-industry/agriculture-and-seafood/animal-and-crops/animal-health/animal-health-monitor-newsletter/may_2021_ahm.pdf