Disease surveillance is more important now than ever before, and the Ontario Animal Health Network (OAHN) is dedicated to early detection and response to emerging infectious disease in our province's animal populations.
What is OAHN?
The Ontario Animal Health Network (OAHN) is a collaborative way of looking at animal health and disease in Ontario.
Vision
Public trust and confidence from a collaborative animal health network in Ontario.
Mission
Coordinated preparedness, early detection, and response to animal disease, through sustainable cross-sector networks. OAHN seeks to form a regular line of communication with as many veterinarians across Ontario as possible, both to collect information about disease seen in practice (in a manner that is easy for practitioners), and to share pertinent health and disease information regularly. The desired outcome is to enable veterinarians to make more informed diagnostic and treatment decisions based on current disease information in Ontario.
Each species sector has an expert network, consisting of veterinarians from: private practice, OVC, the AHL, and OMAFRA. Some networks also include members from producer groups or other government groups. Veterinary representatives are elected by their peers.
For most networks, a quick, species-specific survey is distributed quarterly to veterinarians to identify syndrome prevalence (e.g., increased cases of neurologic signs).
Lab data is also compiled quarterly noting top pathogens/diseases affecting each species from AHL (all sectors), Gallant Labs (swine) and IDEXX (equine).
Species Expert Networks meet quarterly to discuss and interpret the lab data and to review clinical observations from the veterinary surveys and from the network member veterinarians. They discuss implications for animal health, for veterinarians and for industry.
Network discussions focus on trends, risks and actionable items for each industry (e.g., continuing education needs, research needs, emergency preparations)
Reports and/or other communications (infographics, podcasts, fact-sheets) summarizing current disease risks and network observations are created and distributed to veterinarians. Some networks also create a report specific to owners or producer/industry groups.
Research projects are initiated to allow quick investigation into disease trends, based on the networks' analysis of available data and veterinary observations. These projects provide insight into animal health in Ontario, and help vets make decisions based on current risks and geographically relevant information.
The Expert Network may be involved with outbreak risk assessments with OMAFRA or urgent matters where consultation with veterinarians is required. Pertinent disease alerts and crucial information is distributed to veterinarians when outbreaks occur.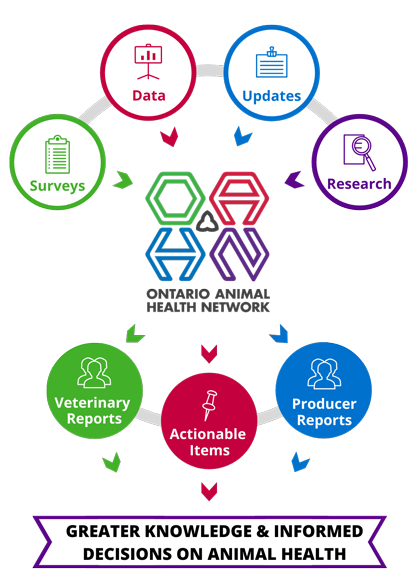 Expert Networks
Species-sector networks are comprised of:
Two co-leads (one OMAFRA lead veterinarian and one private practice veterinarian or industry representative) jointly facilitate network activities.
Three to four private practice veterinarians (*species experts may be elected in place of a veterinarian if not available, for industries such as bees).
AHL specialist
OVC species specialist
OMAFRA epidemiologist
Network coordinator
Some networks also include members from other government or industry organizations.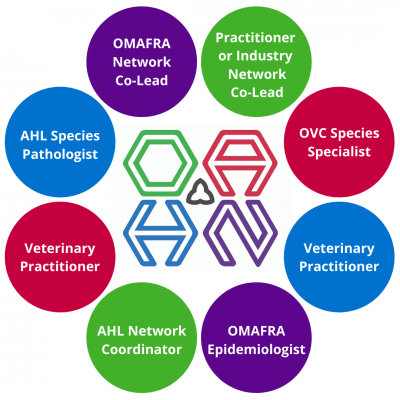 OAHN's Links to Animal Health and Disease Surveillance Organizations (National and Provincial)