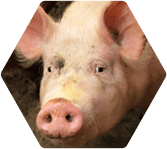 Swine Network
News/Disease Alerts
20 May , 2022
The Ontario Pig Health Check-up program will provide funding to support veterinary consultations for small scale pig herd owners
Read More >
19 Apr , 2022
One new case of rabies detected in one skunk (Niagara) this week (April 13, 2022).
Read More >
29 Mar , 2022
Find links to the latest OAHN Vet surveys. We are asking Ontario veterinarians to tell us what they have seen in practice during Jan-Mar 2022.
Read More >
quarterly Reports
Please see our latest Swine quarterly reports below, as well as supporting resources.

Please note that the veterinary reports, laboratory data, and clinical impressions summaries are meant only for veterinarians and registered veterinary technicians and are not to be shared publicly
---
No reports available for this quarter.
---