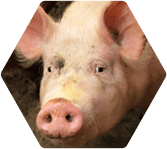 Swine Network
News/Disease Alerts
1 Apr , 2021
If you are an Ontario veterinarian practicing on companion animals, equine, or swine, we'd love to hear what you're seeing in practice.
Read More >
29 Mar , 2021
1 new case of raccoon rabies in one skunk in Niagara.
Read More >
22 Mar , 2021
We look at animal disease news and continuing education pieces from the past week, with articles on companion animals, equine, poultry, swine, and wildlife.
Read More >
quarterly Reports
Please see our latest Swine quarterly reports below, as well as supporting resources.

Please note that the veterinary reports, laboratory data, and clinical impressions summaries are meant only for veterinarians and registered veterinary technicians and are not to be shared publicly
---
No reports available for this quarter.
---