Ontario Animal Health Network (OAHN) Swine Network Quarterly Producer/Industry Report
CanSpot ASF Surveillance Update
Dr. Christa Arsenault provided an Ontario update for the newly launched surveillance pilot project CanSpot ASF:
The Animal Health Lab (AHL) in Guelph, ON processed 4 samples under the CanSpot ASF pilot project in Q3 2020. All samples tested were negative for ASF.
For Q4 there is a need for more samples to be submitted that meet outlined eligibility criteria which includes:
Sufficient information to trace the animal (Premises ID or animal location)
Appropriate tissues are submitted e.g. body fluids and sections of tonsil, spleen, kidney, lymph node.
Veterinarians have been asked to consult with producers BEFORE samples are included in this pilot project so that they understand why samples are being tested for ASF.
Producers need to understand that:
The goal of ASF surveillance is to protect the Canadian commercial swine sector from the adverse effects of ASF on production and trade. The primary objective of this surveillance is to enhance our ability to detect ASF rapidly should it enter Canada. A secondary objective is to support the claim that the commercial pig population is NOT infected with ASF.
The pilot project is aimed to enhance the diagnostic testing for ASF in Canada. The Canadian Animal Health Surveillance Network (CAHSN) laboratories will run routine diagnostic rule-out tests where ASF is NOT suspected.
Certain diseases/conditions may mask the clinical signs of ASF and delay detection. Herds with a history of these diseases/conditions, or cases with a compatible presentation are eligible for testing.
For more information on this pilot project please consult with your veterinarian.
---
Brachyspira hampsonii– *First detection of this pathogen in Ontario*
AHL identified a bacterial pathogen known as Brachyspira hampsonii in a sow unit in Huron County in Q3.  To our knowledge, this is the first identification of this pathogen in pigs in Ontario. Clinical signs of the disease began in mid August. The report was that affected sows had diarrhea that contained mucous and blood.  Clinical signs were mild. Sows treated with injectable Tylosin responded well. There was no known source of the infection. This pathogen is present in Western Canada and Quebec.
---
COVID 19 (SARS-CoV-2) In Mink Disease Update
Dr. Sue Burlatschenko provided an overview of COVID-19 virus status in Mink.   Swine veterinarians and producers should be aware of how the virus has been assessed in the mink populations around the world.  This knowledge can serve as a backgrounder for infectious disease that can spread between humans and animals.  It emphasizes the importance of excellent biosecurity measures to keep both people and animals healthy.  The following information was sourced directly from:  https://www.who.int/csr/don/06-november-2020-mink-associated-sars-cov2-denmark/en/
Since June 2020, 214 human cases of COVID-19 have been identified in Denmark associated with farmed minks, including 12 cases with a unique virus type, reported on 5 Nov 2020. All 12 cases were identified in September 2020 in Denmark.  Eight of these cases had a link to the mink farming industry.
Initial observations suggest that the clinical signs, severity and transmission among those infected are similar to that of other circulating COVID-19 viruses. However, this variant of the virus had genetic mutations, or changes that have not been previously observed. The implications of these changes are not yet well understood.
Further scientific and laboratory-based studies are required to verify preliminary findings reported and to understand any potential implications of this finding in terms of diagnostics, therapeutics, and vaccines in development. In the meantime, actions are being taken by Danish authorities to limit the further spread of this variant of the virus among mink and human populations.
Minks were infected following exposure from infected humans. Minks can act as a reservoir of COVID 19, passing the virus between them, and pose a risk for virus spill-over from mink to humans. People can then transmit this virus within the human population. It remains a concern when any animal virus spills into the human population, or when an animal population could contribute to amplifying and spreading a virus affecting humans. As viruses move between human and animal populations, genetic changes in the virus can occur.
---
OAHN Wild Swine Ministry of Natural Resources and Forestry (MNRF) Project Update
Dr. Erin Koen provided an update on the Wild Swine Project:
A "wild" pig is considered to be any pig that is located outside of a fence or confinement. A pig is designated as wild in those circumstances regardless of whether it's a feral pig that has never been in confinement, an escaped potbelly pet pig, Eurasian wild boar genetics or a commercial breed of domestic pig.
Most sightings of wild pigs in Ontario involve pot bellied pigs and commercial breeds of pigs that have escaped. This serves as a reminder that producers must at all costs locate and recapture escaped pigs. There are also some sightings of Eurasian wild boar. The Eurasian wild boar population has the potential of increasing in Ontario, although we do not have known populations at this time. This project is mapping wild pig sightings.
---
Porcine Epidemic Diarrhea virus (PEDV) in Ontario Update
Since Swine Health Ontario (SHO) has taken over management of PED reporting as of March 31, 2020, there have been 8 new positives sites. SHO has been able to sign up almost all of the swine vets in Ontario registered to report PED results as well as PED health status updates. Thus far in 2020, there has been 26 PED positive sites reported in Ontario. Since August, there have been no new positive site reported.
SHO has confirmed that all the sites identified as PED positive since March 31, are now PED negative except one premise. The one premise still positive for PED, is on track to roll negative in the new year.  SHO has launched the PED dashboard on their website with historical data as well. Geolocation is reported at the level of the county.  This is a great resource for both veterinarians and producers to reference.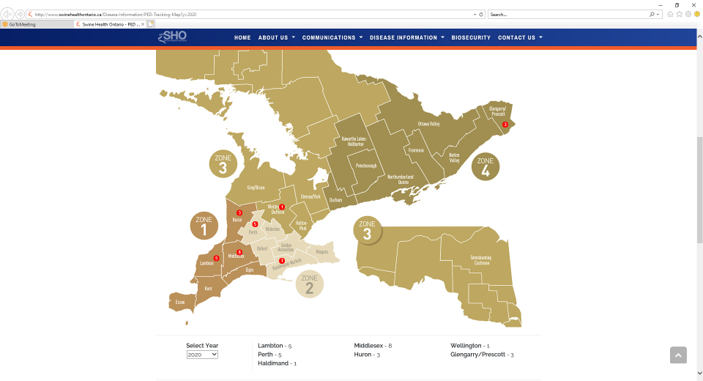 ---
Porcine Reproductive and Respiratory Syndrome (PRRS)
Greater than forty-five % of responding veterinarians indicated that PRRS activity was increasing in Q3. They were continuing to deal with cases that were ongoing from Q1 and Q2. PRRS continues to be the single greatest disease in terms of economic losses. Individual outbreaks continue to range from mild clinical signs to extremely severe.
How can producers engage in OAHN?
Read our quarterly producer reports and let us know what you think!
Discuss the material included in these reports with you herd veterinarian and other swine producers. Help us spread the word!
What to do if you see feral pigs in Ontario…