Ontario Animal Health Network (OAHN) Swine Network Quarterly Veterinary Report
Disease Surveillance Discussion
Influenza A
Dr. Kevin Vilaca provided an overview on South West Vets Ontario Influenza surveillance and the detection of a new emerging strain of H3N2. On April 7, 2023 a new H3N2 virus appeared known as cluster 2010.1.  This virus is not genetically similar to any of the current regional strains or to any other virus documented in Canadian databases, but was genetically similar to a strain first detected in the U.S.A in 2013 and became the dominant strain in the U.S.A by 2017. Over the next 7 weeks, 12 more cases were reported and sequenced. This new strain often presents as a sudden onset of coughing across all stages of production. Sows off feed with high fevers and abortions is common. Previous Influenza vaccination did not have any influence.  Growing pigs present with a sudden onset of coughing, off feed, followed by an increase in mortality due to bacterial pneumonia.  Dr. Ojkic from the Animal Health Lab (AHL) communicated to SW Vets that this new strain is now 67% of the isolates sent to the AHL.  Dr. Hannah Golightly from OMAFRA, presented the below graph that shows the increase in H3N2 subtypes seen over the past quarter (red text box).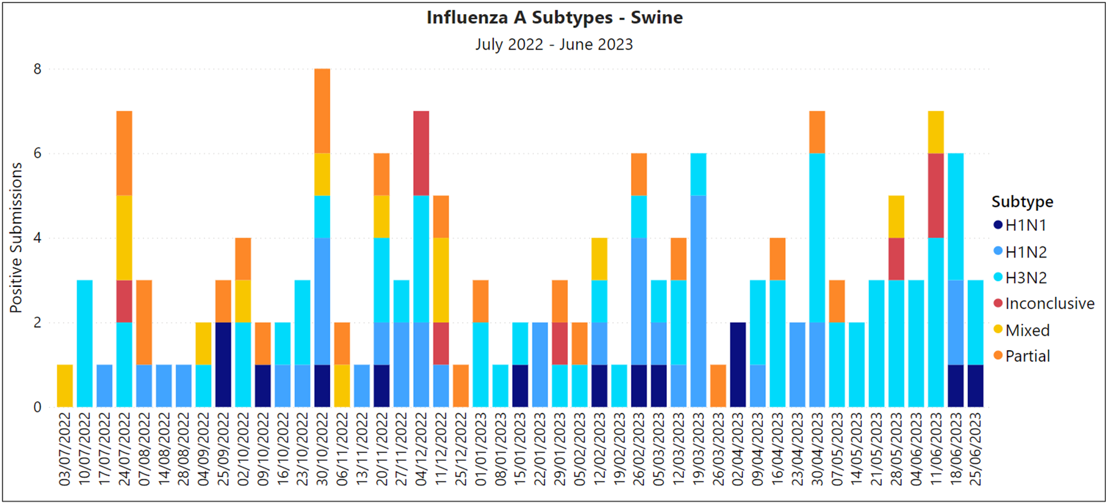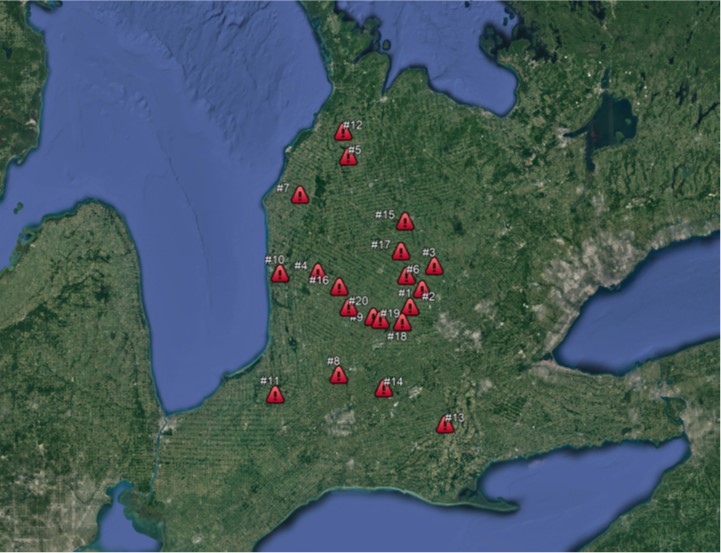 Take Home Messages: Routine Influenza A surveillance provided early detection and warning. Ontario has never seen an Influenza A virus move this quickly, especially during the warmer and dryer months of the year. Based on how this virus behaved in the U.S.A. it is anticipated that cases will increase and it will become the dominant strain in Ontario. This is concerning with the next "flu season" quickly approaching in the fall.  Veterinarians, producers and government have an opportunity to be proactive and prevent limiting the spread of this virus. Dr. Vilaca mentioned that South West Vets are currently working with the CFIA to create an emergency monovalent H3N2 vaccine that should be available in September 2023. 
Porcine Epidemic Diarrhea (PEDV)/ Porcine Deltacoronavirus (PDCoV)
Jessica Fox, Manger at Swine Health Ontario (SHO) reported that there has been a substantial increase in incidence of both PED and PDCoV since the beginning of Q2 2023.  There were 17 cases reported in Q2 2023:
County Name & Case Numbers: Bruce (2), Oxford (11), Lambton (1), Huron (1), Middlesex (1), Waterloo (1)
Disease Type: PED (14) PDCoV (3)
Farm Type: Farrow-to-wean (4), Farrow-to-feeder (1), Farrow-to-finish (1), Nursery (4), Finisher (7)
Jessica also reported that there have been 9 additional cases in Q3 2023 thus far with no new cases reported since July 17.
County Name & Case Numbers: Bruce (1), Gray (1), Oxford (2), Huron (1), Perth (2), Waterloo (2)
Disease Type: PED (9) PDCoV (0)
Farm Type: Finisher (9)
All cases are pursuing elimination working with their veterinarians.
The PED and PDCoV Tracking map is available at the Swine Health Ontario website and shows current and annual cases by county. http://www.swinehealthontario.ca/Disease-Information/PED-PDCoV-Tracking-Map
Porcine Respiratory and Reproductive Virus (PRRS)
On the clinical impressions survey there were 39 % of practitioners that indicated that PRRS (breeding herd) had increased activity in Q2 compared to Q1. There were 54% of practitioners that indicated increased PRRS (growing herd) in Q2 compared to Q1. One practitioner commented that PRRS eliminations continue to be more difficult. The elimination protocols that previously yielded consistent results are now less predictable. One practitioner commented that their seems to be an increase in severe PRRS impacting growing pigs down stream. This is also leading to immunosuppression and increase in secondary infections. Appeared to be less "seasonal relief" as we entered into the warmer months of Q2.
---
OMAFRA Swine Disease Dashboard
Dr. Hannah Golightly provided an overview of the OMAFRA Swine Disease Dashboard for Q2 2023:
Salmonella Surveillance
There were 19 detections of Salmonella in Q2 2023 compared to 30 detections reported in Q1 2023.
Dr. Golightly reviewed a new level of analysis for Salmonella isolations. This new report differentiates between cases where Salmonella was isolated through enrichment or there is a quantified level of culture growth signified by the levels of 2+, 3+ or 4+ growth.
In Q2 2023 there were 7 Salmonella detections reported to us where level of isolation was quantified. From these 7 detections 5 were samples collected from nurseries, one from grow finished pigs, and one was not specified and 5 of the 7 indicated that clinical signs occurred on submission history with the other 2, not providing adequate history information for review.
The Salmonella isolated from 7 cases (most reporting clinical disease) that did not require enrichment included S. 1,4 [5],12:i:- or Monophasic (4 cases, 57 %), S. agona (1 case, 14%), S. seftenberg (1 case 14%), S. worthington (1 case, 14 %).
---
Laboratory Diagnostic Reports
Dr. Josepha DeLay provided an update on AHL activity in Q2 2023. A total of 1125 swine cases, representing all test types, were submitted to the AHL during 2023 Q2. Of these, 68 cases had a pathology component (gross post-mortem and/or histopathology) and originated from commercial herds. Four (4) additional pathology cases were from pet pigs, and there was 1 meat inspection case.
For pathology cases, the premises identification (PID) inclusion rate continues to improve (85%).  Age or commodity group was provided for 100% of cases, and adequate clinical history was provided for 97% of cases. Thank you for your cooperation!
Notable pathogens or disease syndromes that were detected and apparent trends identified during 2023 Q2 are as follows:
PRRSV-positive case numbers increased in Q2 compared to Q1. Influenza case numbers remained stable although the distribution of subtypes has shifted to predominance of H3N2 (67%).
PEDV and PDCoV case numbers were increased in Q2.
Porcine astrovirus 4 was detected by PCR in lung and / or trachea of nursery pigs in 3 cases and was considered significant to the cause of respiratory disease based on the lesions present. Anecdotally, trachea is being included more frequently among samples submitted from field post-mortems. This is very helpful to pathologists when assessing the cause of respiratory issues.
Porcine sapovirus was detected and considered significant to the cause of neonatal diarrhea in 2 cases. Importantly, other viral causes of diarrhea were excluded in these animals.
Abortion submissions decreased in Q2.
Dietary magnesium toxicosis was the presumed cause of severe diarrhea and dermatitis in a group of finisher pigs.
 NONPATHOLOGY CASES
There was nothing remarkable in Q2 with respect to non-pathology cases.
Gallant Custom Laboratory (CEVA) Diagnostic Reports
Anna Pietruszkiewicz reported on the highlights of the 13 cases submitted to Gallant Labs from Ontario in Q2 2023. This represents a decrease in the number of isolates in comparison to Q1 2023.
Clostidiodes difficile (2 cases) and Clostridium perfringens type A Beta 2 (2 cases) were increased as there were no cases identified in Q1 2023 and Q4 2022.
Strep suis decreased to 3 cases in Q2 2023 from 7 cases in Q1 2023 and 4 cases in Q4 2022.
Influenza cases increased with 3 cases of H3N2 and 1 case of H1N1 in Q2 2023.
---
Ontario Slaughter Statistics
Federal Slaughter Statistic Summary (Q2 Aggregate)
Dr. Christine Pelland along with assistance to compile the data by Gillian Greeves reported the following:
Carcass Condemnations
Erysipelas carcass condemnations constituted 2.7 % of all carcass condemnations. This is lower than the 7.4% recorded in Q1 2023. Absolute numbers of Erysipelas condemnations/ 100,000 inspected declined in comparison to Q1 2023 but are lower than Q2 2022. The seasonal pattern of decreased carcass condemnations due to Erysipelas in Q2 and Q3 is continuing.
Peritonitis carcass condemnations had been steadily increasing reaching a recent peak of 78 condemnations/100,000 hogs in Q4 2022 but there has been a reduction in absolute terms with Q2 2023 at 53 condemnations/100,000 hogs inspected.
Ontario Provincial Slaughter Statistic Summary
Dr. Christine Pelland reported there were no significant changes in the causes of partial or whole carcass condemnations in Q2.
---
CanSpotASF Surveillance Update
Dr. Christa Arsenault provided an update on CanSpotASF activity in Ontario. CanSpotASF is a risk-based early detection testing program that is available at approved Canadian Animal Health Surveillance Network (CAHSN) laboratories, which includes the AHL in Ontario. The CanSpotASF program is set up with the goal of early detection of ASF.  It is to be used when ASF is not a main rule-out diagnosis and where early clinical signs of ASF could be masked by other routinely diagnosed swine endemic diseases in Canada.  If ASF is suspected on a farm/premise, the Canadian Food Inspection Agency (CFIA) must be notified immediately.
Dr. Christa Arsenault reported a total of 17 cases for CanSpotASF testing in Q2 2023. There were 42 cases that were eligible for testing. That equals only a 40% test rate for eligible cases.  The main reason that eligible cases can't be tested in the CanSpotASF program is because fresh spleen tissue has not been included in the sample submissions. It is, therefore, important that spleen is included in as many laboratory submissions as possible (even respiratory case work-ups) when field post mortems are carried out. Remember to "Make Spleen Routine!" so that our early detection program has a chance to limit the spread of ASF.  More information is available on the OAHN website: https://www.oahn.ca/wp-content/uploads/2022/05/OAHN-CanSpot-17MAR2022.pdf
---
International Disease Topics Of Interest Summary
Dr. Al Scorgie reported on some interesting international and domestic disease surveillance reports:
African Swine Fever (ASF)
Europe: In Europe (EU and neighbouring countries), the total number of outbreaks of ASF in domestic pigs is 192 as of June 9 2023. Of the 198 cases Serbia had 86, Romania 76 and Moldova 15. There have also been cases in domestic swine in: Germany, Greece, Italy, Poland and Ukraine. Most of the cases are smaller farms but in Romania one farm had 17,900 pigs and another had 13,200. (Feed Strategy 06-28-2023)
Italy: ASF was detected for the first time in both the Calabria and Campania regions of southern Italy. Previously, ASF cases were in the northwest part of the country and near Rome which are not close to these new regions. All the previous cases except one were in wild boars. The first cases in the Calabria region in late April were in wild boars. Since these first cases there was another case in a wild boar and two cases in farms. Four weeks later five wild boars tested positive in Campania, near Naples. (Feed Strategy 06-28-2023)
Croatia: Croatia reported its first cases of ASF on two farms and became the 23rd country in Europe to detect ASF. The 2 farms were just 1 km from the border with Bosnia-Herzegovina which had reported its first case of ASF 1 day earlier. (Feed Strategy 06-28-2023)
Philippines: The Philippines government is considering recommending that pork producers use the Avac ASF vaccine. The Avac vaccine is manufactured in Vietnam and was developed with assistance from the United States Department of Agriculture (USDA). Avac is a single dose vaccine given to pigs from 4 to 10 weeks of age. Six farms in the Philippines have trialed the vaccine. The Philippines FDA is now evaluating the safety and efficacy of the vaccine. Plans are to order an initial 600,000 doses. (Pig Progress 06-28-2023)
China: Chinese scientists published a paper in May identifying a new strain of ASF in three provinces. The new strain seems to be a hybrid of the genotype II strain from the outbreak in 2018 and a genotype I strain, found in 2021 that causes more chronic disease and lower mortality.  One concern is that vaccines that were developed based on the genotype II strain may not provide adequate protection against the new hybrid strain. Emergence of a new strain is a surprise given that ASF is a DNA virus and is usually quite stable. It is possible that two different strains of ASF virus infected the same cell at the same time and traded genetic material. (Feed Strategy, 06-26-2023)
Germany: The German government is not ready to authorize an ASF vaccine in domestic swine in the near future. Germany will consider an ASF vaccine for wild boars. Any vaccine used in the EU will have to meet high safety standards and be subject to an in-depth approval process. (Feed Strategy, 06-19-2023)
United States: Could California's Prop 12 increase the risk of ASF entering North America? Christine McCracken, a Protein Analyst with Rabobank, commented on June 21 that there may be a risk that Prop 12 in California will increase pork prices leading to more illegal importation of pork from countries with ASF. (Feed Strategy 06-22-2023)
Are unregulated online sales of pigs and feral pigs a risk for FAD preparedness?
Researchers looked at the online sale of domestic wild boars, pot-bellied pigs, other breeds and their hybrids on Kijiji from April 28 to June 30, 2021 in Canada. The researchers also mapped the location where online pigs were sold against known locations of feral pig populations. The concern was that many of these pigs sold online were from small backyard farms where pigs could have outdoor contact with feral pigs. In the event of a FAD such as ASF these online sales are unregulated and could contribute to the movement of the disease. Of the 151 pigs for sale online during the study, 52 were from Ontario and 44 were from Alberta. There were 62 of 151 that were sold from areas with wild pig sightings. The researchers proposed that there be requirements that all pigs sold online have an individual tag or tattoo and mandatory reporting.                                                                                   (Journal of Wildlife Diseases, 05-10-2023)
Can sample handling affect the detection of PRRS by PCR testing?     
Iowa State researchers studied the effect of temperature of sample storage on the detection of PRRS by PCR. Three types of samples were tested: serum, oral fluids and feces. Samples were held at 4, 10, 20 or 30 degrees C and then a PRRS PCR test was run. In addition the researchers tested samples that were exposed to 1 , 2, 3 or 4 freeze-thaw cycles. The PRRS used was a vaccine strain. PRRS virus was stable in serum up to 20 degrees C for as long as 168 hours but at 30C the amount of detectable PRRS virus RNA was reduced. For oral fluids and feces, the amount of detectable PRRS virus RNA decreased over all temperatures of refrigeration. In the freeze-thaw experiment there was less of an effect on the serum and feces and more of an effect on oral fluids. The researchers concluded that serum could be stored up to 20 degrees C but if possible oral fluids and feces should be frozen and stored in a non-defrosting freezer. If not possible to freeze then chill as quickly as possible. (UMN-Swine News, 06-30-2023)
Practices that could spread influenza virus
Researchers at University of Minnesota did a study that looked at practices that could spread influenza in nursing pigs. Pigs are born naïve to influenza (IAV). With continuous farrowings there are new pigs being born daily that can become infected and the herd continues to be endemic for IAV. Some practices such as cross fostering or using nurse sows have been shown to contribute to the spread of IAV in nursing pigs. Research has also shown that fomites such as clothing can spread IAV. Some herds will have protocols such as using disposable gloves to reduce the spread of IAV but it may not be practical or economical to change gloves between litters. Herds may have protocols in place to disinfect processing equipment such as tail dockers, teeth clippers or to change needles between litters. Usually the syringes and processing carts are not cleaned until end of day. The researchers wondered if there were certain practices that contributed more to the spread of IAV.  Three sow farms from the same production system that all had a history of endemic IAV participated in the study. These farms did have protocols that included: cleaning processing equipment and wearing disposable gloves. Processing was done between 3 – 5 days, vaccination between 16 – 20 days and weaning at 19 – 24 days of age. In the study 90 udder wipe samples were collected. Sampling of employees' hands and disposable coveralls was done before and after processing, vaccinating and weaning. A RT-PCR for IAV was run. Any sample with a CT    <35 was considered positive. Virus isolation was done on a subset of the 47 IAV positive samples to confirm IAV viability. The study was done from December 2019 to February 2020. For Farm A 68.8% (62/90) of udder wipes were positive for IAV, for Farm B 34.4% (31/90) of udder wipes were positive and for Farm C 81.1% (73/90) of udder wipes were positive. There were 75 samples from coveralls taken. (Areas of sampling of coveralls were arms, chest and thighs). There were 80 samples from hands. There were 76 samples taken after processing and 15.8% were positive (9 coveralls/3 hands). 48 samples were taken after vaccination and 93.8% were positive (19 coveralls/26 hands). 31 samples were taken after weaning and 93.3% were positive (14 coveralls/15 hands). Of the 47 positive samples sent for virus isolation there were 5 positives with 4 of these taken after vaccination. Overall, the CT values trend lower from processing to weaning with weaning having the lowest CT values. The researchers concluded that the risk of having positive PCR samples for IAV was six times higher at vaccination and weaning than processing. They also concluded that activities that require handling of pigs and close contact between staff and pigs are a significant risk for spreading IAV.
How can you Participate in OAHN?
Look for the 2023 Q3 veterinary clinical impression survey that will come out the first of October via an email through the OASV listserv.
The survey takes less than 10 mins time to complete!