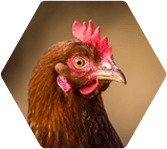 Poultry Network
News/Disease Alerts
9 Sep , 2021
FBCC has been informed by the Ontario Ministry of Agriculture, Food and Rural Affairs (OMAFRA) that a 200-bird chicken flock with 25% mortality has tested positive for Infectious Laryngotracheitis (ILT)
Read More >
23 Jun , 2021
A new ILT case has been reported by OMAFRA in an unregistered Family Food Grower small flock in an area south of Kitchener in Waterloo Region. There are 3 CFO farms, 23 Family Food Grower small flocks and 4 EFO small flockers in the described area.
Read More >
26 May , 2021
We look at animal disease news and continuing education pieces from the past week, with articles on bovine, companion animals, poultry, swine, wildlife, COVID-19, Vet Med, and more!
Read More >
quarterly Reports
Please see our latest Poultry quarterly reports below, as well as supporting resources.

Please note that the veterinary reports, laboratory data, and clinical impressions summaries are meant only for veterinarians and registered veterinary technicians and are not to be shared publicly
---
No reports available for this quarter.
---