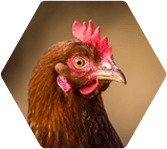 Poultry Network
News/Disease Alerts
21 Jun , 2022
From the Feather Board Command Centre.
Read More >
13 Jun , 2022
The Feather Board Command Centre (FBCC) is issuing a Biosecurity Advisory for a 10 km area in West Elgin in southwest Ontario.
Read More >
28 Mar , 2022
On March 27,2022, the Canadian Food Inspection Agency (CFIA) reported highly pathogenic avian influenza (HPAI), subtype H5N1, in a poultry flock located in southern Ontario.
Read More >
quarterly Reports
Please see our latest Poultry quarterly reports below, as well as supporting resources.

Please note that the veterinary reports, laboratory data, and clinical impressions summaries are meant only for veterinarians and registered veterinary technicians and are not to be shared publicly
---
No reports available for this quarter.
---