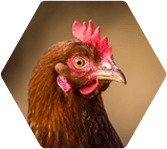 Poultry Network
News/Disease Alerts
21 Apr , 2023
The Feather Board Command Centre (FBCC) is issuing an Infectious Laryngotracheitis (ILT) biosecurity advisory for Town of Innisfil.
Read More >
5 Apr , 2023
To download a PDF of this animal health update, please click here: https://www.oahn.ca/wp-content/uploads/2023/04/Animal-Health-Update-AI-in-Mammals-04.04.23.pdf
Read More >
3 Apr , 2023
Current situation, clinical signs, diagnosis, and prevention of Newcastle disease.
Read More >
quarterly Reports
Please see our latest Poultry quarterly reports below, as well as supporting resources.

Please note that the veterinary reports, laboratory data, and clinical impressions summaries are meant only for veterinarians and registered veterinary technicians and are not to be shared publicly
---
No reports available for this quarter.
---