Ontario Animal Health Network (OAHN) Companion Animal Expert Network Public Health Update 2021
What is the OAHN Public Health Update?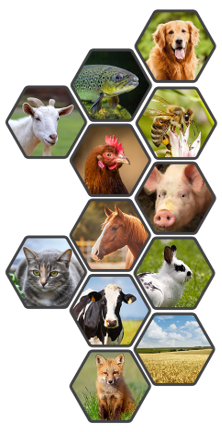 The Ontario Animal Health Network (OAHN) was created to achieve coordinated preparedness, early detection, and response to animal disease in Ontario.  OAHN is a "network of networks" with individual networks for different species/sectors, each of which involves collaboration among veterinarians, animal owners and stakeholders in the field with laboratory, academic and government experts. To help strengthen the link and communication between animal health and public health networks, this annual update was created especially for public health professionals in Ontario, to highlight pertinent topics from the last 12 months from the OAHN companion animal and other species networks.
---
---
Network Highlights
---
---
Salmonellosis in a cattery feeding a raw diet (Q1 2021)
An outbreak of salmonellosis was reported among adult cats and kittens in a cattery feeding a raw diet.  This serves as an important reminder of the risks to both people and animals of feeding pets raw diets. Check out OAHN's 4-part podcast series on raw diets for more information.
---
---
---
---
---
Small Ruminant: Zoonotic causes of abortion (Q2 2021)
Many of the pathogens that cause abortions in sheep and goats are also zoonotic, including Coxiella burnetii, Chlamydia abortus, Toxoplasma gondii, Campylobacter spp., Listeria monocytogenes and Salmonella spp.  Cases may occur sporadically, seasonally, or as "abortion storms," which are not only frustrating from an economical, animal health & welfare, and mental health standpoint, but they are also a potential human health hazard. Those working with sheep and goats may be at greater risk of exposure to these pathogens via contact with contaminated materials, ingestion or inhalation from the environment.  The OAHN Small Ruminant team has developed resources about abortions in sheep and goats for farmers, veterinarians and others to help raise awareness of these risks and ways to mitigate them.
---
Equine: Tick-borne diseases, unusual case report (Q1 2021)
Although disease in horses caused by Borrelia burgdorferi (the agent of Lyme disease) is poorly defined, horses in Ontario are commonly exposed to this tick-borne pathogen. An OAHN Equine research project conducted in 2016-2017 on 551 horses in Ontario was recently published (Neely et al. EVJ 2021).  It showed a spatial cluster of cases in Eastern Ontario and a positive association with oak trees on pasture, but the odds of detecting antibodies to B. burgdorferi were significantly lower when owners performed regular tick checks on their horses. An unusual case of infection in a horse by Halicephalobus gingivalis was also reported in late 2020.  This parasite can infect horses, humans and occasionally cattle. It's likely the parasite enters the body through open wounds in the mouth or nose, and then typically spreads to the brain and kidneys. Most cases of infection in livestock are fatal. While infection in a horse is not directly transmissible to humans, it can indicate a contaminated environment. Human infections are rare and usually involve immunocompromised individuals, but can be similarly severe.
---
Bovine: Salmonella Dublin (Q4 2020)
The OAHN Bovine team continues to monitor cases of Salmonella Dublin, which is an emerging disease in all cattle sectors across Canada. As well as causing sickness and death in calves, S. Dublin is transmissible to people, and the strains currently circulating are broadly antibiotic-resistant. From 2012-2020, it is estimated that 64 unique premises in Ontario have had S. Dublin detected, of which 31 are veal, 32 are dairy and 1 is a beef operation.  The increasing number of cases lead Veal Farmers of Ontario (VFO) to produce fact sheets, case studies and a podcast about this pathogen, covering everything from the risks to human health, the risks to animal health, and what producers can do to prevent outbreaks, or manage the disease when it is detected. These great resources are freely available on CalfCare.ca, and will also be featured in the next OAHN Bovine report.
---
Rabies Update
Rabies response and control in Ontario is a joint effort involving the public, animal owners, veterinarians, animal and wildlife control organizations, public health units, the Ontario Ministry of Agriculture, Food and Rural Affairs (OMAFRA) and the Ministry of Northern Development, Mines, Natural Resources and Forestry (MNDMNRF). Click here for the latest Ontario rabies surveillance map. Annual maps of rabies cases in Ontario (including terrestrial rabies and bat rabies cases) are available at ontario.ca/page/rabies-cases. The OMAFRA rabies website has additional detailed information for veterinarians about rabies response in Ontario. Remember that ANY direct contact between a pet and a live bat is considered a potential rabies exposure, and ALL* dogs and cats – even if currently vaccinated – require a rabies booster within 7 days of an exposure unless the bat can be tested (and is negative) within this window.

To date, all raccoon-variant rabies cases in 2021 have been detected in the Niagara region. The MNDMNRF distributes oral rabies vaccine (ORV) baits to help limit further spread of rabies in raccoons, skunks and foxes (there is currently no effective means of controlling rabies in bats). Over 7 million ORV baits have been distributed since December 2015, and the MNDMNRF has performed over 21 800 dRIT screening tests as part of their surveillance efforts.
Highlights:
REMEMBER: Owners who have a concern about potential exposure of one of their animals to rabies should always be referred to their local veterinarian FIRST.  Veterinarians seeking assistance with a rabies risk assessment or animal testing should contact OMAFRA using the *NEW* online rabies response request form (omafra.gov.on.ca/rabiesrequest), or at 1-877-424-1300.
---
OAHN resource pages for veterinarians
OAHN has created several resource pages on key topics to help Ontario veterinarians (and others) quickly and easily find key information and references on important topics, including
Other networks have created resources on many other disease-specific topics (including influenza in swine and poultry), animal welfare issues and even producer mental health.  Check out all the OAHN podcasts at oahn.podbean.com, and infographics on the individual network pages at oahn.ca.
---
New OAHN disease reporting portal
Ontario veterinarians can now report unusual companion animal infectious disease cases to OAHN any time using the new online disease reporting portal on the OAHN companion animal homepage. Submissions will be reviewed by members of the network team to detect any notable disease patterns and occurrences that should be communicated to Ontario veterinarians. Please note that listed notifiable or reportable diseases must still be reported to the appropriate provincial or federal animal health or public health authorities.
Network Team:
Eastern ON:

Dr. Ryan Llera

Southern ON:

Dr. Emma Webster

Northern ON:

Dr. Hailey Bertrand

Animal Health Lab:

Dr. Kris Ruotsalo

Dr. Marg Stalker

Ontario Vet College:

Dr. Scott Weese

Dr. Shauna Blois

OMAFRA:

Dr. Maureen Anderson

Dr. Tim Pasma

Network coordinator:

TBD