Ontario Animal Health Network (OAHN)
Companion Animal Expert Network
Veterinary Need-2-Know (N2K) Update – Q4 2022
OAHN fall survey and lab data: Key results
There were 77 survey respondents from 35 counties, including primary care, referral, emergency and mobile practices. Overall there were fewer infectious disease concerns over the fall compared to the same period last year, but the mild weather kept concerns about ticks and ongoing tick prevention, as well as leptospirosis, at the forefront much later into the season.  It's also important to remain aware of the risk of SARS-CoV-2 infection in cats, particularly as new variants continue to emerge in the human population.  A few respondents reported increased cases of FIP and FIV, particularly in rescue cats, and one reported a case of necrotizing fasciitis in a dog.
Holiday munchy mahem
Not unexpectedly around the holidays, there was a reported increase in toxicosis cases, including marijuana. A recent survey of primarily Canadian veterinarians showed that many report a significant increase in these cases since marijuana was legalized in Canada in 2018.  While there is ongoing concern about owners trying to medicate their own pets due to lack of approved cannabis products for animals and very limited evidence-based guidance on use of cannabis in animals overall, the majority of toxicity cases were in pets that ingested edibles while unsupervised.  Fortunately most pets seem to recover fairly well with supportive out-patient care.  The full study can be accessed on PLOS ONE.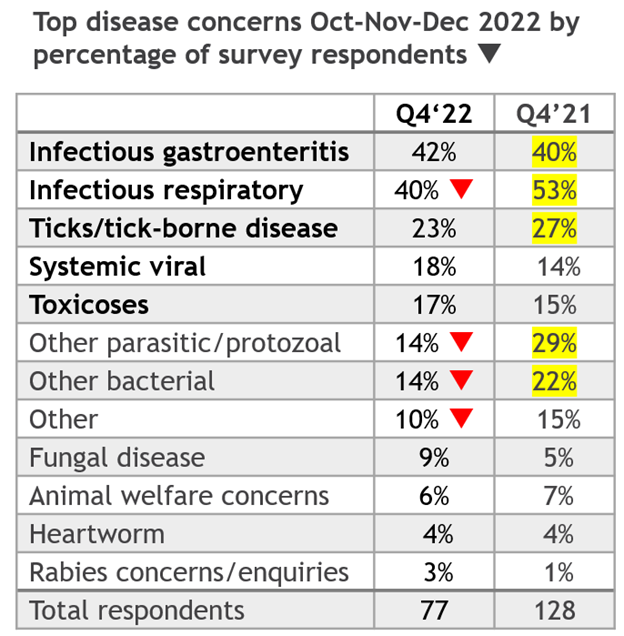 ---
Echinococcus multilocularis refresher
In the last decade, it has become clear that Echinococcus multilocularis (EM) is now endemic in wildlife in southwestern Ontario. This was demonstrated yet again by the finding of a chipmunk with alveolar echinococcosis (AE) in Durham region this fall. Fortunately infection in Ontario dogs remains rare (or at least rarely diagnosed) and even more rare in people, but particularly due to the insidious nature of AE, it is crucial that we keep this disease on everyone's radar.  Remember: people can only be infected by ingesting eggs from canid feces and develop AE.  Dogs are typically infected by ingesting tissues from infected small mammals and develop intestinal infections, but occasionally can also develop AE from ingesting large numbers of eggs! See the life cycle diagram below or the OAHN EM infographic for more details, and the OAHN antiparasitics table for EM treatment options.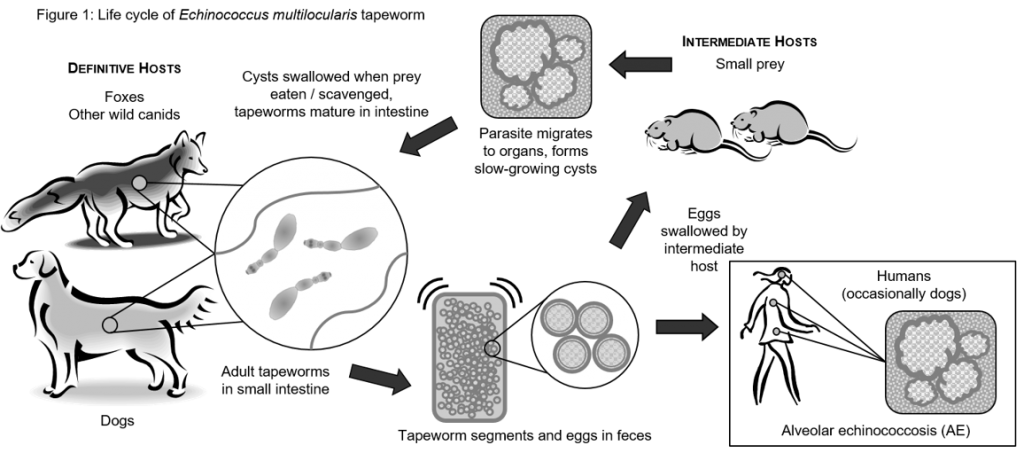 ---
RHDV2 surveillance, subsidized testing now available
---
Rabies 2022 summary, webpage on the move
---
New video! Need-2-Know: Rabies in Pets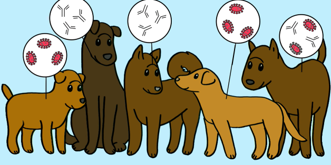 Check out the whiteboard video from OAHN!  Narrated by Pogo the rescue dog, this 4.5 minute video helps explain to pet owners some important basics of how rabies infection works and the importance of vaccination, as well as why vaccination or antibody titres can't necessarily eliminate the risk of rabies in dogs from high-risk areas (either in Canada or outside Canada).  Feel free to share the video with clients on your clinic website, social media or other communication platforms!
Is there a communication tool like this that you would like to have to help explain a certain concept to pet owners or staff? Let us know by emailing oahn@uoguelph.ca!
---
Got blasto cases?
There is increasing interest in surveillance of pets and/or wildlife to help detect high-risk areas and exposures for blastomycosis in both people and animals. While cases diagnosed by laboratory testing in Ontario are reported annually to OMAFRA, those diagnosed using out-of-province testing or without lab testing are not.
OAHN would like to collect more information about where, how and how often Ontario veterinarians diagnose blastomycosis in their patients. If you see cases, they can be quickly and easily reported to OAHN through our online disease reporting portal.  There will also be an opportunity to tell us about the cases you see on the next companion animal OAHN survey – watch for it in early May!
More resources for helping pet pigs
The OAHN swine network has posted its new quick-reference information sources for smallholder and pet pig owners, as well as a handy video on pig necropsy especially for veterinarians who are not swine specialists.  Ensuring there are mechanisms in place to help diagnose diseases in these animals helps improve their overall health and welfare, and helps protect the entire pig population in Ontario from the risk of African Swine Fever.
---
Help us help you!
Have an idea for an infographic you'd like to see, or a podcast you'd like to hear? Email oahn@uoguelph.ca to let us know!