Varroa Monitoring 2021
What is the Varroa Mite Awareness Campaign?
The goal of the Varroa Mite Awareness Campaign 2021 is to increase knowledge of Varroa mite testing and treatment in Ontario, and to gain information from all parts of the beekeeping sector (hobbyist and commercial) about Varroa levels. The OAHN bee network's goal is to provide high quality information that beekeepers can use to make the best possible treatment decisions in the fall of 2021 based on real data. Here's the scoop:
Between September – October, all beekeepers in Ontario are asked to check their Varroa levels in their hives. After recording your Varroa levels, visit this page, and log your results and county to help us in this effort. The results will be mapped without any identifiers (no names, addresses, etc.), and only down to township/county level, and posted on this page. All levels of beekeepers, all sizes of operations are encouraged to contribute; the more Varroa counts we have, the better armed we can be to make good treatment decisions this fall! The logging system is quick and easy to use, and is customized to commercial vs. smaller operations. Logging your levels can be done from anywhere you have cell phone reception. We are leaving a wider window for the data entry, so that you can also enter your Varroa counts before treatments, and then after treatments to monitor for treatment success.
Why should I care about my Varroa mite levels in my colony? What is a Varroa mite?
Varroa mites are parasites that live on bees (see photo to the right)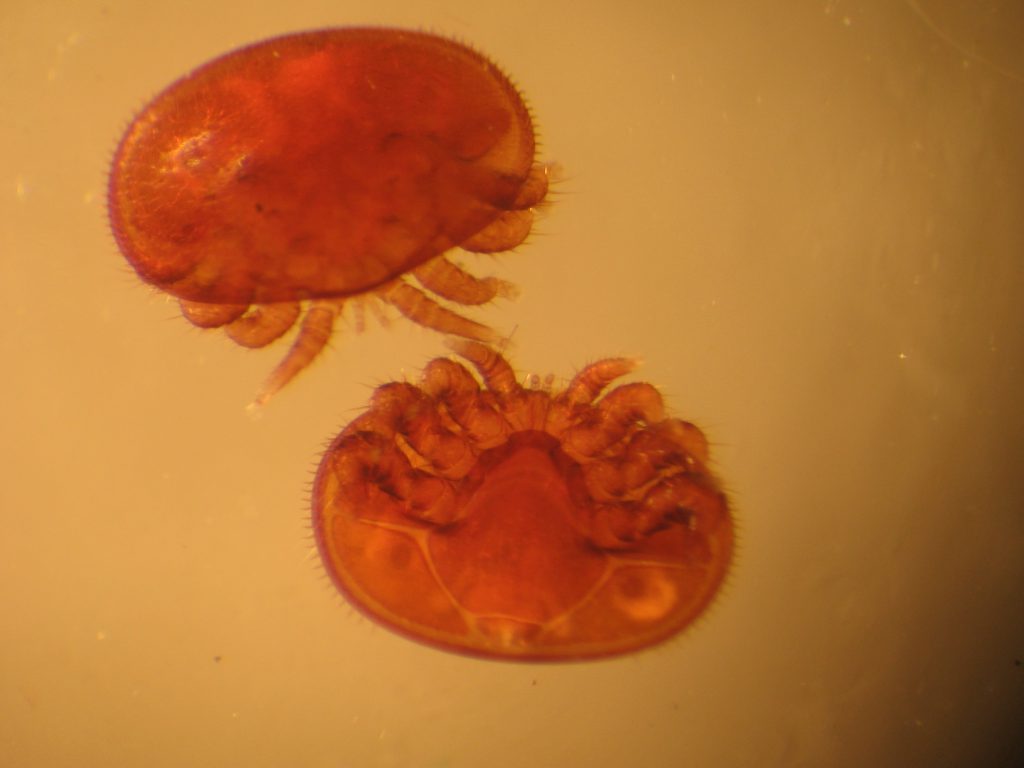 . They carry viruses and bacteria that are harmful to bees, sort of like ticks of the bee world. However, varroa mites are much bigger in relation to the bee's body size when compared to ticks on humans. Virtually every honey bee colony in Ontario is infested with varroa mites and the levels of varroa are always increasing within the colony. If beekeepers do not manage varroa levels in a colony they will die, especially during the winter. Because bees co-mingle between colonies, within and between beeyards there is potential for spread of mites. Thus, the more beekeepers monitor their own hives and take effective measures to effectively control their varroa levels on a regular basis the healthier the population of honey bees will be as a whole. Producing varroa data at a community level across the province can help us communicate bee health and improve the practice of monitoring.
How to take a sample to monitor your varroa mites:
There are a few different ways to sample for varroa mites in honey bee colonies. The method we have selected for this monitoring strategy is the 'alcohol wash'.
Alcohol Wash Method
Collect a sample of bees from the brood chamber. This is where the highest number of varroa mites will be present.
Since the bees in the sample will be killed, beekeepers must be particularly careful not to include the colony's queen in the sample. Beekeepers may locate and then cage the queen first.
For a representative sample of the colony, collect bees from at least three different frames.
There are two different ways of collecting bees from the colony
Beekeepers may shake the bees directly off of the frame into a pan where the bees can then be scooped into a container.
Beekeepers may also collect bees directly from the frame by gently running the container over the surface of the frame, with the frame tilted downwards at 30° so that the bees fall into the container.
Collect half a cup of worker bees (approximately 300 bees) from the brood chamber of the colony. Place the bees inside a well sealed container and add alcohol (at 70%).
Ensure the alcohol completely covers the honey bees in the container, level approximately 2 cm above the surface of the bees.
Vigorously shake the sample in the container for two minutes to dislodge the varroa from the bodies of the worker bees.
Pour the mixture of dead bees, mites and alcohol onto a 1/8 inch hardware cloth, mesh wire screen over a receiving container or pan to filter out the honey bees from the smaller varroa.
The container or pan should be light coloured or clear so the varroa can be easily seen.
Count the varroa mites in the container or pan. For example, if you have 3 varroa in a sample of 300 bees.
Dispose of the dead bees and rinse the container with water to remove the mites between samples.
Please sample a minimum of three colonies per yard per date and provide the average varroa detected [e.g. 3 varroa / 300 bees; 6 varroa / 300 bees; 6 varroa / 300 bees -> (3 + 6 + 6) / 3 = 5 varroa]. Please sample as many yards as you can and answer the survey for each yard and date.
Materials required: pan, cup, ½ cup, 1/8 inch hardware cloth or wire mesh, pan or bucket, alcohol, water, notebook and mite shaker.
Handheld, easy to use, commercially manufactured mite shaker devices that give effective and fast results are available. Follow the directions given with the shaking apparatus. Contact your local bee supply outlet for availability.
For more information see: http://www.omafra.gov.on.ca/english/food/inspection/bees/varroa-sampling.htm
Where do I log my Varroa levels?
You can log your results right here: https://uoguelph.eu.qualtrics.com/jfe/form/SV_8itBehbDDLH3lZ4
Don't forget to enter your name & email address. We will NOT post any identifying information on the Varroa map, only Varroa count and county/township.
How secure is my information?
When you log your information with us, we use a secure, Canadian-based database to log your information. The software is the same as is used for other OAHN networks, where we log disease information from hundreds of veterinarians. Confidentiality of your information is our top priority, and the data you enter will not be used for other purposes other than mapping.  We will be sharing the aggregate (non-identifying information) with specialists within the OAHN Bees network who will be doing further analysis on the data to help us make optimal use of Varroa level tracking for your benefit.  When we publish the map, there will NOT EVER be information that identifies your bee yard, name, location (other than township/county). We will also be writing a report that summarizes the data on general trends in Ontario.
How can I use the map when it is published?
The OAHN bee network has recognized the need to understand our Varroa levels locally to help with treatment decisions, and monitoring decisions. With enough beekeepers sharing their information, you may be able to see what the Varroa levels are in your geographic area. If your levels are low, but the area has high levels, you may wish to increase your monitoring to ensure good overwintering. If your levels are high, but the rest of the area is low, it may be time to review management practices in alignment to treatment thresholds.
Where is the information on how to manage and treat for Varroa in Ontario?
This is available on the OMAFRA Apiary Program webpage. This includes available options in Ontario, treatment thresholds and best practices for treatments and controlling Varroa.
http://www.omafra.gov.on.ca/english/food/inspection/bees/2017-treatment.htm
Or you can download the pdf here.
How can I help make this campaign a success?
Please share this page with any beekeepers, groups, or listservs you may be part of. If you are a beekeeping supply store, group etc and would like to get involved, please let us know by emailing oahn@uoguelph.ca.
Campaign organizers/collaborating organizations:
Varroa Mite Awareness Week is a collaborative effort between: Ontario Animal Health Network, Ontario Ministry of Agriculture, Food, and Rural Affairs (OMAFRA), University of Guelph, the Ontario Beekeeper's Association, Tech Transfer Program, Niagara College Commercial Beekeeping Program, and the Animal Health Laboratory.
Volunteers:
We would like to gratefully acknowledge the following people for their donation of time to the campaign.
OAHN bee network members: Paul Kozak (OMAFRA), Jim Coneybeare (Coneybeare Honey), Mylee Nordin (Niagara College Commercial Beekeeping Program), Nuria Morfin (University of Guelph), Les Eccles (OBA), Dr. Hugh Cai (AHL), Dr Nigel Raine (University of Guelph), Dr. Tim Pasma (OMAFRA), Dr. Amro Zayad (York University),
More resources:
For more resources for beekeepers from the OAHN Bee network, click HERE
How to monitor your Varroa levels:
Paul Kelly (University of Guelph, OAHN) and Paul Kozak (OMAFRA, OAHN) are here in 3 videos to help refresh you on Varroa monitoring techniques (see below)
Video 1: Varroa monitoring dynamics

Video 2: Screen bottom/sticky board method

Video 3: Alcohol wash method