Using Social Media to Follow Disease Outbreaks
If there is a disease outbreak, one of the best ways to keep up with the latest news is to use Twitter. By following the right accounts, organizing who you follow into lists, using hashtags, and searching efficiently, you can create a page that will aggregate all of the latest news.
For background on using social media, check out our articles on Twitter and Facebook, as well as our podcast on using social media for continuing education. 
Why Use Social Media to Track Disease Outbreaks?
Using social media to track disease outbreaks is a more efficient alternative to relying on news outlets or producer and veterinary organizations. Using social media streamlines your research process and gets you information more quickly. If you are currently tracking various news sites, looking for update newsletters in your inbox, and looking to veterinary and producer groups for information, you can do all of that in one place, with the updates and information coming to you in real time.
Finding and Following the Right Accounts

For simplicity's sake, we will use "avian influenza" as the example disease to track using social media. 
Identify where you currently receive your animal health and disease information. Go to these websites and follow their accounts on Twitter. Most sites will have social media buttons at the top right or top left of the page. This is what it looks like on WattAgNet.com:

After you have followed the sites you currently visit, search within Twitter for the disease to find accounts that are currently sharing news and updates about the disease outbreak.
The Twitter Search button is at the top right of your Twitter homepage:

Once you have searched, the results are sorted into options, some of which are self-explanatory (Photos, Videos), while the others are explained below:

Top – These are the most popular results, which have the most shares, likes, etc, or are tweeted by the most popular/verified accounts.
Live – Like it sounds, these are real-time results. These can be useful when tracking a disease outbreak, but these results will also contain spam accounts.
Accounts – These are accounts rather than Tweets. This is a useful tab if you're searching for something more broad like "Poultry Medicine" or "Horse Health", but not usually when searching for a disease.
Under "More Options," the most useful options are to search by Location (in case you are looking for a disease happening near you), and to only show results from people you follow.

Looking through these results will help you find accounts that are trustworthy and reporting on the most timely information for avian influenza. You can then follow these accounts, or organize them into a list, to follow the disease outbreak.
Using Lists to Follow a Disease Outbreak
If you are using your Twitter account to follow accounts that cover multiple areas and not just disease outbreaks, you can organize who you follow into lists when a disease outbreak happens.
The first thing you want to do is figure out what accounts you want on your "Disease Outbreak" list. If you are trying to follow an avian influenza outbreak, you'll have different accounts on the list than if you are following an equine strangles outbreak.
From your Homepage, click on your icon in the top right corner: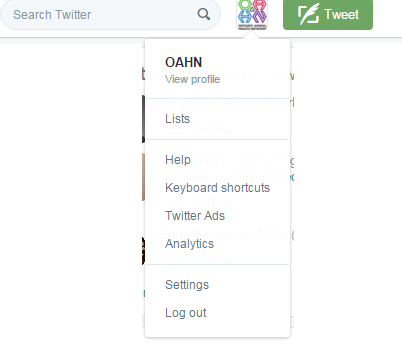 Then click on "Lists." When you click on Lists, it will bring you to your Lists Page, which will be blank if you haven't yet created any lists. On the right side you will see an option to "Create New List":


Click "Create New List"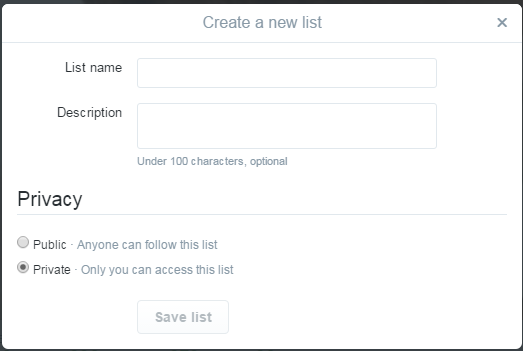 If you want this to be a list that only you will use, make sure to mark it Private, and then give it a Name, such as Avian Influenza Outbreak April 2015. The description is optional. After you have added this in, click "Save list".
Now, when you click on "Lists" you will have the list you created appear on that page. Click on the list you have created, and you will be brought to a page that looks like this:

You can add people to your list by searching for them in the Search box on this page, or going through the list of people you follow and adding them to the list.
To do this, click on the "Following" link on your homepage, which will show you all accounts that you follow. Click on an account you want to add to your list. This will bring you to the account's page, where you will see the following in the mid-right of the page:

Click on the gear symbol: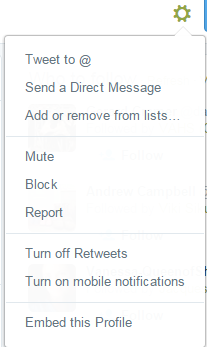 And click on "Add or remove from lists…"
You will then get the option of which List to add the account to, and can build your list to use during disease outbreaks.
Using Hashtags to Follow a Disease Outbreak
Outside of following trusted accounts that will give updates on a disease outbreak, the other best way to follow is through hashtags. There are two ways to follow hashtags:
By clicking on a hashtag that is on an article/update you find useful,
By searching for hashtags that have been used, or that you think will be used.
If you are reading through your news feed and see an interesting Tweet about avian influenza, click on the hashtag attached to that Tweet, whether it's an obvious one like #avianinfluenza or #h5n1, or not-so-obvious hashtags, like #poultryhealth #AI #birdflu, etc. 
When you click on one of these hashtags, you will see all results in real time. If you wish to instead search for a hashtag, simply enter it into the Search Bar, and look at either the "Top" results or the "Live" results.
Putting It All Together
By finding and following the right accounts, organizing the accounts you follow into lists, and then utilizing hashtags, you will be able to use Twitter to keep on top of disease outbreaks in a quicker and simpler way than using Google, scanning news sites, or waiting for newsletters or emails to come in from veterinary/producer organizations and colleagues.
Another great way is to follow the OAHN Twitter account, where we employ many of the same techniques listed here, and Tweet out the most valuable and reliable information available.