Infographic: Ticks and Lyme Disease in Ontario – 2022 UPDATE
If you would like to download a PDF of this map, please click here: https://www.oahn.ca/wp-content/uploads/2022/07/OAHN-Infographic-Ticks-Lyme-2022-Update-Final-July-2022.pdf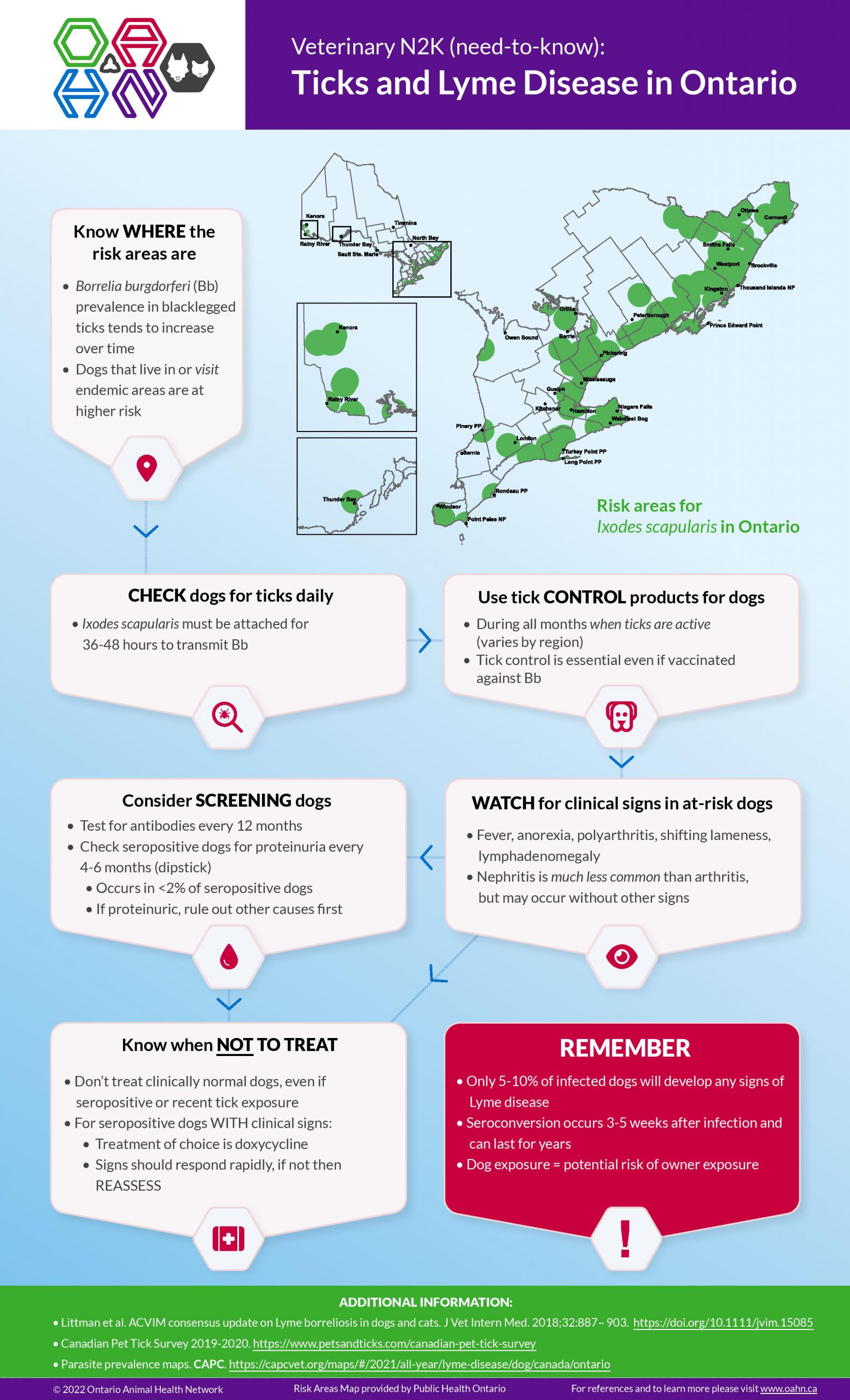 Other Resources
Government of Canada. 2022.  Surveillance of Lyme disease. https://www.canada.ca/en/public-health/services/diseases/lyme-disease/surveillance-lyme-disease.html#a1
Public Health Ontario. 2016. Lyme disease. https://www.publichealthontario.ca/en/diseases-and-conditions/infectious-diseases/vector-borne-zoonotic-diseases/lyme-disease
Ontario Lyme Disease Map 2022: Estimated Risk Areas: https://www.publichealthontario.ca/-/media/Documents/O/2022/lyme-disease-risk-area-map-2022.pdf?sc_lang=en
Ontario Ministry of Health and Long-Term Care. Lyme disease. https://health.gov.on.ca/en/public/publications/disease/lyme.aspx
Tick identification guide: https://web.uri.edu/tickencounter/fieldguide/
Ticks and Lyme Disease – References
Herrin, B., Peregrine, A., Goring, J., Beall, M., Little, S. (2015) Canine infection with Borrelia burgdorferi, Dirofilaria immitis, Anaplasma spp., and Ehrlichia spp. in Canada, 2013-2014. In: Proceedings of the 25th International Conference of the World Association for the Advancement of Veterinary Parasitology, 16th-20th August 2015, Liverpool, England, Abstract #P2E367/0210, page 597.
Bouchard C, Leonard E, Koffi JK, Pelcat Y, Peregrine A, Chilton N, Rochon K, Lysyk T, Lindsay LR, Ogden NH. The increasing risk of Lyme disease in Canada. Can Vet J. 2015 Jul;56(7):693-9.
Nelder MP, Russell C, Lindsay LR, Dhar B, Patel SN, Johnson S, Moore S, Kristjanson E, Li Y, Ralevski F. Population-based passive tick surveillance and detection of expanding foci of blacklegged ticks Ixodes scapularis and the Lyme disease agent Borrelia burgdorferi in Ontario, Canada. PLoS One. 2014 Aug 29;9(8):e105358. doi: 10.1371/journal.pone.0105358.
Public Health Ontario.  Technical Report: Update on Lyme Disease Prevention and Control.  Feb 2012. Available at: https://www.publichealthontario.ca/-/media/Documents/L/2016/lyme-disease-prevention-technical.pdf?sc_lang=en
Villeneuve A, Goring J, Marcotte L, Overvelde S.  Seroprevalence of Borrelia burgdorferi, Anaplasma phagocytophilum, Ehrlichia canis, and Dirofilaria immitis among dogs in Canada. Can Vet J. 2011 May;52(5):527-30.
Ogden NH, Bouchard C, Kurtenbach K, Margos G, Lindsay LR, Trudel L, Nguon S, Milord F. Active and passive surveillance and phylogenetic analysis of Borrelia burgdorferi elucidate the process of Lyme disease risk emergence in Canada. Environ Health Perspect. 2010 Jul;118(7):909-14. doi: 10.1289/ehp.0901766.
Gary AT, Webb JA, Hegarty BC, Breitschwerdt EB. The low seroprevalence of tick-transmitted agents of disease in dogs from southern Ontario and Quebec. Can Vet J. 2006 Dec;47(12):1194-200.
Littman MP, Goldstein RE, Labato MA, Lappin MR, Moore GE. ACVIM small animal consensus statement on Lyme disease in dogs: diagnosis, treatment, and prevention. J Vet Intern Med. 2006 Mar-Apr;20(2):422-34.https://onlinelibrary.wiley.com/doi/10.1111/j.1939-1676.2006.tb02880.x/pdf
S K Sood1; M B Salzman; B J Johnson; C M Happ; K Feig; L Carmody; L G Rubin; E Hilton; J Piesman. Duration of tick attachment as a predictor of the risk of Lyme disease in an area in which Lyme disease is endemic . J Infect Dis. April 1997;175(4):996-9.
Levy SA, Magnarelli LA. Relationship between development of antibodies to Borrelia burgdorferi in dogs and the subsequent development of limb/joint borreliosis. J Am Vet Med Assoc. 1992 Feb 1;200(3):344-7.