Infographic: Ticks and Lyme Disease in Ontario – 2023 UPDATE
If you would like to download a PDF of this map, please click here: Ticks and Lyme Disease in Ontario – 2023 Update PDF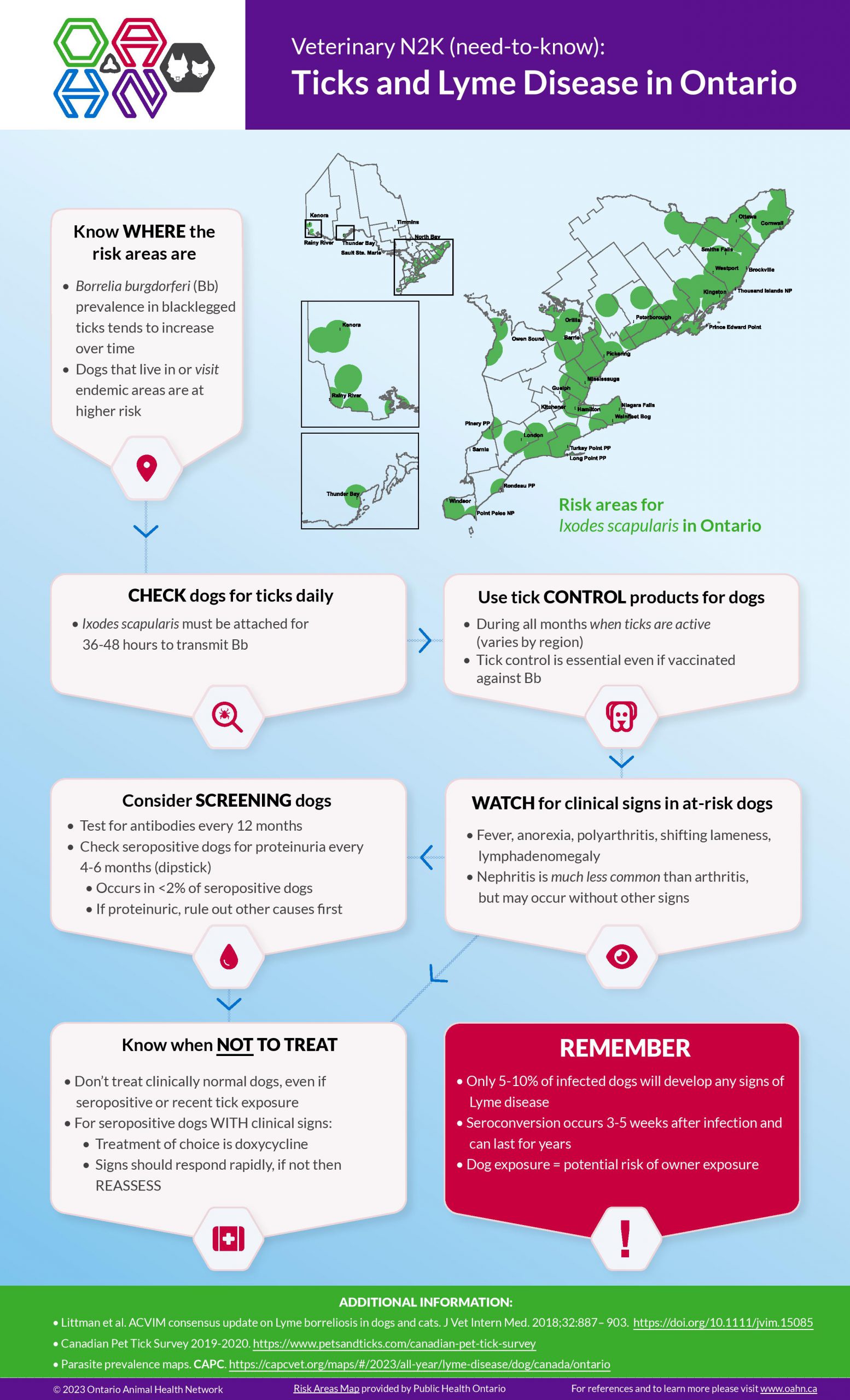 Other Resources
Government of Canada. 2022.  Surveillance of Lyme disease. https://www.canada.ca/en/public-health/services/diseases/lyme-disease/surveillance-lyme-disease.html#a1
Public Health Ontario. 2022. Lyme disease. https://www.publichealthontario.ca/en/diseases-and-conditions/infectious-diseases/vector-borne-zoonotic-diseases/lyme-disease
Public Health Ontario. 2023. Summary: Tick Species in Ontario. https://www.publichealthontario.ca/-/media/Documents/T/2023/tick-species-ontario-lyme.pdf
Ontario Lyme Disease Map 2023: Estimated Risk Areas.  https://www.publichealthontario.ca/-/media/Documents/L/2023/ontario-lyme-disease-risk-area-map-2023.pdf
Public Health Ontario. Technical Report: Update on Lyme Disease Prevention and Control.  2nd ed. Jun 2016. https://www.publichealthontario.ca/-/media/Documents/L/2016/lyme-disease-prevention-technical.pdf
Ontario Ministry of Health. 2023. Tick-borne diseases. https://www.ontario.ca/page/tick-borne-diseases
University of Rhode Island. Field Guide to Ticks. https://web.uri.edu/tickencounter/fieldguide/
eTick. Image-based identification and population monitoring of ticks in Canada. www.etick.ca
Ticks and Lyme Disease – References
Bouchard C, et al. The increasing risk of Lyme disease in Canada. Can Vet J. 2015 Jul;56(7):693-9.
Herrin BH, et al. Canine infection with Borrelia burgdorferi, Dirofilaria immitis, Anaplasma spp. and Ehrlichia spp. in Canada, 2013-2014. Parasit Vectors. 2017 May 19;10(1):244. doi:10.1186/s13071-017-2184-7.
Kidd L, Breitschwerdt EB. Transmission times and prevention of tick-borne diseases in dogs. Comp Cont Ed. 2003;25:742-750.
Levy SA, Magnarelli LA. Relationship between development of antibodies to Borrelia burgdorferi in dogs and the subsequent development of limb/joint borreliosis. J Am Vet Med Assoc. 1992 Feb 1;200(3):344-7.
Littman MP, et al. ACVIM consensus update on Lyme borreliosis in dogs and cats. J Vet Intern Med. 2018;32:887-903. https://doi.org/10.1111/jvim.15085
Littman MP, et al. ACVIM small animal consensus statement on Lyme disease in dogs: diagnosis, treatment, and prevention. J Vet Intern Med. 2006 Mar-Apr;20(2):422-34. https://doi.org/10.1111/j.1939-1676.2006.tb02880.x
Nelder MP, et al. Population-based passive tick surveillance and detection of expanding foci of blacklegged ticks Ixodes scapularis and the Lyme disease agent Borrelia burgdorferi in Ontario, Canada. PLoS One. 2014 Aug 29;9(8):e105358. doi: 10.1371/journal.pone.0105358.
Ogden NH, et al. Active and passive surveillance and phylogenetic analysis of Borrelia burgdorferi elucidate the process of Lyme disease risk emergence in Canada. Environ Health Perspect. 2010 Jul;118(7):909-14. https://doi.org/10.1289/ehp.0901766.
Sood SK, et al. Duration of tick attachment as a predictor of the risk of Lyme disease in an area in which Lyme disease is endemic. J Infect Dis. April 1997;175(4):996-9.
Villeneuve A, et al.  Seroprevalence of Borrelia burgdorferi, Anaplasma phagocytophilum, Ehrlichia canis, and Dirofilaria immitis among dogs in Canada. Can Vet J. 2011 May;52(5):527-30.