Small Poultry Flock Disease Surveillance Project
Have you ever had birds become sick/die but didn't know why?

The University of Guelph and OMAFRA, through the Animal Health Laboratory (AHL) and the Ontario Animal Health Network, are conducting a baseline surveillance study to determine the most common infectious diseases found in small flocks in Ontario.
To learn more, check out our flier and further details below: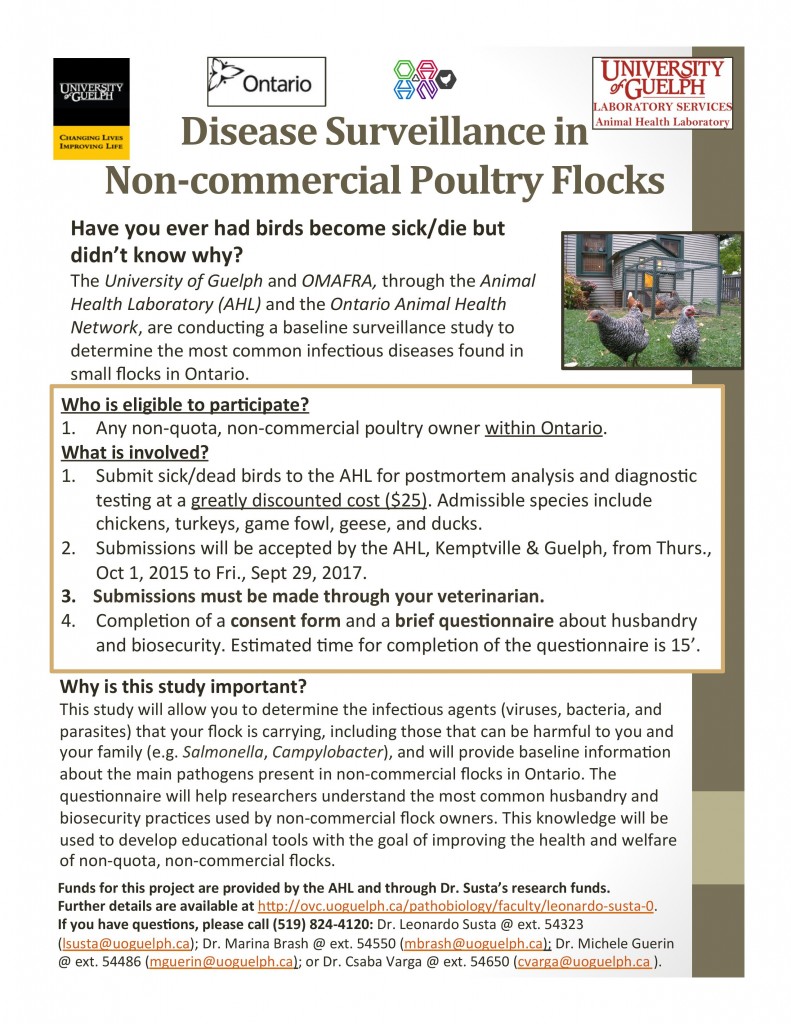 More Details
Detection and surveillance of significant pathogens in Ontario small poultry flocks
The University of Guelph and the Ontario Ministry of Agriculture, Food and Rural Affairs (OMAFRA), through the Animal Health Laboratory (AHL) and the Ontario Animal Health Network, will be conducting an infectious disease surveillance study in small (non-commercial and non-quota) poultry flocks in Ontario (click here to download a flyer advertising the study).
Rationale: The number of small poultry flocks has markedly increased over the past few years in Ontario, however, there is a void of knowledge regarding the type of diseases that affect this segment of the poultry sector.
Methods: In this project, we plan to conduct a prospective study of small poultry flock postmortem cases submitted to the Animal Health Laboratory (AHL) for two years (starting October 1st 2015), focusing on a prioritized list of infectious diseases. Upon the flock owner's consent, in addition to a complete postmortem analysis, an extensive battery of tests will be carried out for infectious disease surveillance at a substantially discounted fee (total cost, $25). Standardized questionnaires administered to participating owners will help to understand common husbandry and biosecurity practices in these flocks.
Benefits: By conducting this prospective study we anticipate to establish a baseline for the prevalence of important viral, bacterial and parasitic diseases of Ontario small flocks. Through the information collected from standardized questionnaires completed by small flock owners, we expect to link specific management practices to prevalence of certain infectious diseases. Ultimately, this study will be used to aid in prevention, control and surveillance of relevant diseases among small flocks in Ontario. The data derived from this study will be used in extension programs to raise awareness of common poultry diseases linked to this type of production among veterinarians and small flock producers.
To participate in this study (please refer to the consent form below for detailed
information about inclusion criteria and how to participate):
You (the owner of the flock) and your flock must reside in Ontario.
Your flock must meet the criteria of a non-commercial, non-quota flock: 49 or fewer turkeys; 99 or fewer layer chickens; 299 or fewer broiler chickens; or 300 or fewer birds for ducks, geese, and gamebirds. Pigeons and doves are excluded from this study.
Submissions can only be made to the Animal Health Laboratory (AHL) through your veterinarian: contact your veterinarian about submitting samples.
You must provide at the time of submission (testing will not be performed unless these items are received):

The specific AHL Small Flock Project Submission Form (to be completed by you or your veterinarian);
The $25 fee;
The Husbandry and Biosecurity Small Poultry Flock Questionnaire (to be completed by the owner – this will take approximately 15 minutes); and
A signed Consent Form (to be completed by the owner – signature page in
duplicate).

You must agree to be contacted by phone or e-mail at a later time for follow-up questions or to provide clarification to the answers you provided in the questionnaire.
Forms:
Click on the links to download each form (these three forms need to be completed in
order for each participant to be enrolled in this study).
1) AHL Small Flock Project Submission Form 
2) Husbandry and Biosecurity Small Poultry Flock Questionnaire
3) Consent Form
Contacts:
If you have questions, please email or call (519) 824-4120:
• Dr. Leonardo Susta @ ext. 54323 (lsusta@uoguelph.ca);
• Dr. Marina Brash @ ext. 54550 (mbrash@uoguelph.ca)
• Dr. Michele Guerin @ ext. 54486 (mguerin@uoguelph.ca);
• Dr. Csaba Varga @ ext. 54650 (cvarga@uoguelph.ca);