OAHN Companion Animal Research Project: Brucella canis in commercial dog breeding kennels in southern Ontario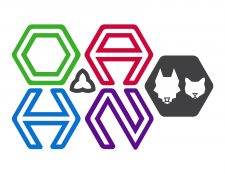 Brucella canis in commercial dog breeding kennels in southern Ontario 
Project Lead: Dr. J. Scott Weese, University of Guelph
Collaborators: Dr. Maureen Anderson, OMAFRA
Date: Apr. 2019 – Dec. 2019
This project evaluated the prevalence and distribution of the zoonotic bacterium Brucella canis in breeding dogs in Ontario. While B. canis has typically been considered to be a rare bacterium in Ontario, mainly associated with imported dogs, this investigation was started in response to identification of a potential problem with B. canis in commercial dog breeding kennels in southwestern Ontario. A convenience sample of dogs was tested in breeding kennels. A large number of positive dogs were identified in breeding kennels, indicating a potentially serious problem. Overall, B. canis was identified serologically 127/1056 (12%) dogs from 22/64 (34%) kennels. The prevalence at the kennel level ranged from 0-100%. Serial testing was performed on a subset of dogs. 27 dogs with reactive (RSAT positive, 2ME-RSAT negative) results were followed. 24 became negative on subsequent testing, consistent with transient cross reaction as can be found in situations such as following Bordetella bronchiseptica vaccination. 2 remained reactive and 1 converted to positive. This has important ramifications for dealing with reactive results, highlighting the potential for false positives (something that is of particular importance given the potential for culling of positive dogs).
Further work in this area will hopefully involve continued communication with kennels to try to reduce B. canis in the breeding dog population. Some kennels have undergone eradication efforts and are being followed. The spread of B. canis beyond the tested region will also hopefully be explored. Education of physicians, public health personnel and veterinarians is ongoing to try to increase awareness.
To see a PDF of the poster below, click here.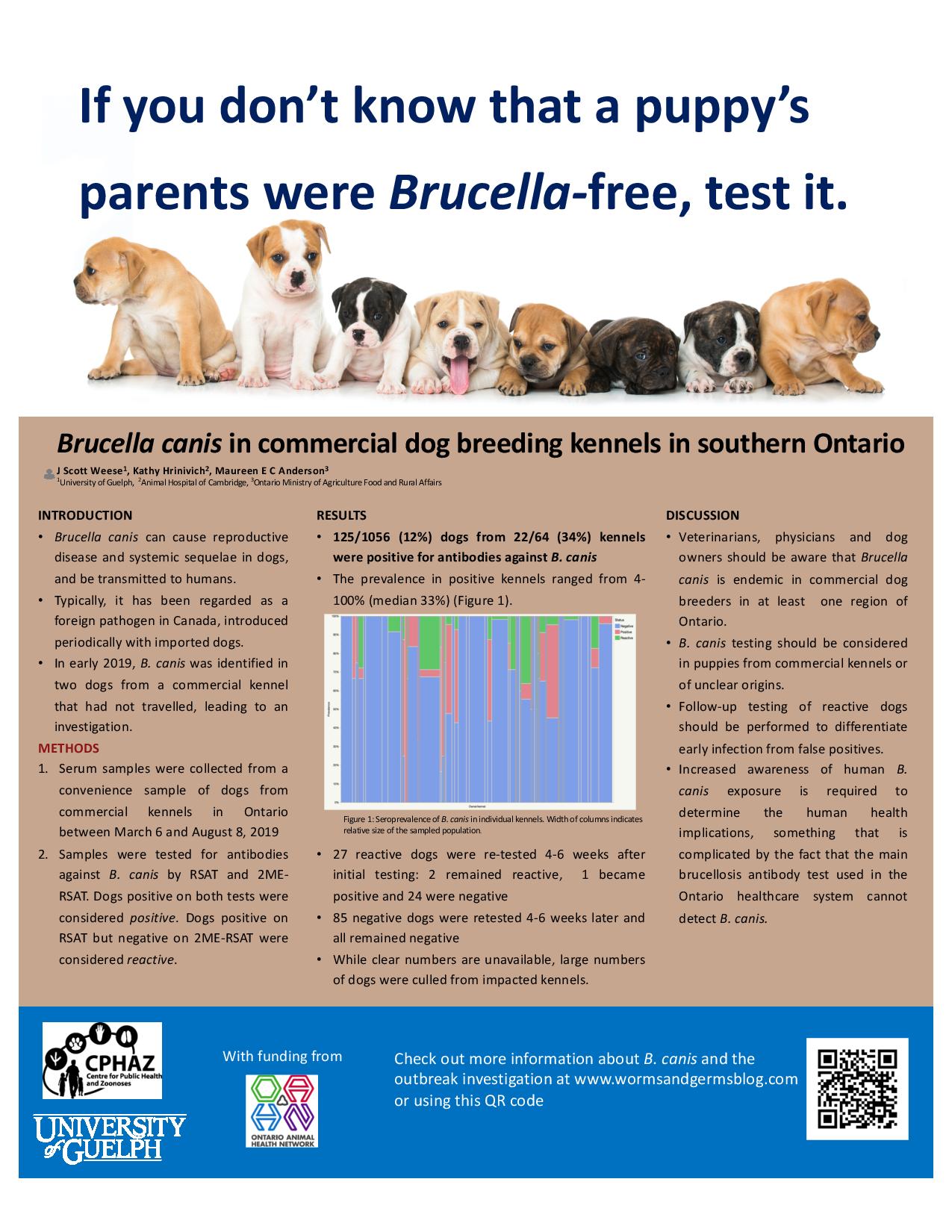 OAHN Companion Animal network resources related to this project:
B. canis Veterinary Factsheet:                                 OAHN Public Health Report, 2019:
OAHN Companion Animal network Jan – Mar 2019 Veterinary report (note, veterinarians please login to access this document)
Worms and Germs Blog articles relating to this project:
May 16, 2019: Brucella canis updates: U.S. dogs, Canadian person and lots of Canadian dogs
Mar. 11, 2019: More Brucella canis, Ontario
Mar. 1, 2019: Brucella canis in imported dogs: Ontario
Presentations and Publications relating to this project:
Weese, J., Hrinivich, K., & Anderson, M. (2020). Brucella canis in Commercial Dog Breeding Kennels, Ontario, Canada. Emerging Infectious Diseases, 26(12), 3079-3080. https://dx.doi.org/10.3201/eid2612.201144. (CDC)
Hot Topics in Infectious Diseases, Ontario Veterinary Medical Association meeting, (Weese), Jan. 30, 2020
Ontario Livestock and Poultry Council meeting, (Weese) Dec. 19, 2019
CPHAZ One Health Poster Day (Weese), Nov. 8, 2019
National Alliance of State Animal and Agricultural Programs (NASAAP) webinar (Weese), Oct, 2019
CEZD webinar: Zoonoses and adaptation in a changing world (Weese), June 20, 2019
Brucellosis in Ontario dogs, Scott Weese, CPHAZ symposium, May 30, 2019