OAHN Bee Research Project: Culture, antimicrobial susceptibility and molecular typing of Paenibacillus larvae, a causative agent of American foulbrood (AFB)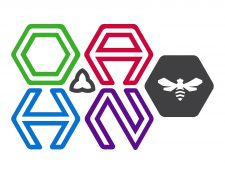 Project Lead: Dr. Durda Slavic
Collaborators: Les Eccles, Paul Kozak, Wael Haddad, Martha Fabri, Dr. Marc Schäffer
American foulbrood (AFB) is the most devastating bacterial disease of honey bee larvae.  Paenibacillus larvae, the bacterium that causes AFB, produces spores that can survive in the environment for over 35 years.  The spores can easily spread from colony to colony by adult honey bees and by different equipment used in beekeeping.
This project was designed to collect and characterize P. larvae isolates from Ontario bee yards with AFB (clinical cases) and from bee yards without AFB (non-clinical cases).  In addition, susceptibility to different antimicrobials was determined.  Unlike for clinical cases for non-clinical cases there was a very low recovery (3.2%) of P. larvae isolates.  As only a very limited number of bee yards (13) were tested and they were pre-selected, it is likely that this number does not accurately represent the situation in the field.  With over 6,500 bee yards registered in Ontario, there is a need for a larger study to determine the true prevalence of P. larvae in yards with no clinical AFB.
At the end of the study, 103 P. larvae isolates were used for susceptibility testing.  At present, no isolates appear to be resistant to oxytetracycline, a drug predominantly used for preventive treatment of P. larvae in Ontario.
To read the full report, click here.
[maxbutton id="1″ ]