OAHN Equine Network Research Project: Neorickettsia risticii in Ontario: Identifying emerging strains, their diagnosis and environmental risk factors for disease development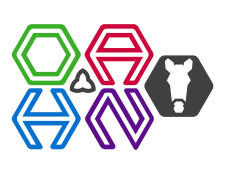 Project Lead: Dr. Luis Arroyo
Collaborators: Drs. Alison Moore, John Baird, Y. Rikihisa
Executive Summary
Potomac horse fever (PHF) is an acute and potentially fatal enterotyphlocolitis of horses caused by infection with the monocytotropic rickettsia Neorickettsia risticii (formerly Ehrlichia risticii).
The clinical findings, geographic locations, laboratory diagnoses, and culture isolation of Neorickettsia spp. in Potomac horse fever (PHF) cases diagnosed in Ontario between 2015 and 2019 are described.
Forty-six confirmed PHF cases occurred from late June to early September. Of 41 horses admitted to the Ontario Veterinary College, 28 (68%) survived and 13 (32%) were euthanized due to poor prognosis or financial constraints. Most cases were in southern Ontario along the Canada-USA border.
Blood and fecal samples from 43 suspect PHF cases were submitted to 2 laboratories for polymerase chain reaction (PCR) testing for Neorickettsia risticii. Agreement between both laboratories for detection of N. risticii DNA was excellent for feces [κ = 0.932, 95% confidence interval (CI): 0.80 to 1], and fair for blood samples (κ = 0.494, 95% CI: 0.13 to 0.85). Neorickettia spp. were isolated from 16 of 41 (39%) blood samples. DNA analysis confirmed 14 isolates were N. risticii and 2 were N. findlayensis, a novel species of Neorickettsia recently demonstrated to cause PHF.
In summary, PHF is endemic and widely distributed in southern Ontario. Laboratory confirmation of this disease may vary among veterinary diagnostic laboratories which warrants periodic assessment of diagnostic methods in place.
Publications and Presentations
Results of this work were presented in part at 2 international scientific meetings and a peer-reviewed publication in the CVJ.
A Novel Species of Neorickettsia that Causes Potomac Horse Fever (September 2021)
American College of Veterinary Internal Medicine (ACVIM) Forum
Baltimore. United States of America
EMERGING AND RE-EMERGING INFECTIOUS DISEASES: NOVEL RICKETTSIAL SPECIES CAUSING EQUINE NEORICKETTSIOSIS. (September 2021)
AAEP Convention United States Nashville. Tennessee
Arroyo LG, Moore A, Bedford S, Gomez DE, Teymournejad O, Xiong Q, Budachetri K, Bekebrede H, Rikihisa Y, Baird JD. Potomac horse fever in Ontario: Clinical, geographic, and diagnostic aspects. Can Vet J. 2021 Jun;62(6):622-628.
Neorickettsiosis (Potomac Horse Fever): The Canadian Story. Podium presentation.  CVMA, Quebec City, Jylu 2023.
Potomac Horse Fever Infographic
To download a PDF of this infographic, please click here: OAHN Potomac Horse Fever Infographic