Ontario Animal Health Network (OAHN) Companion Animal Expert Network Public Health Report 2020
What is the OAHN Public Health Report?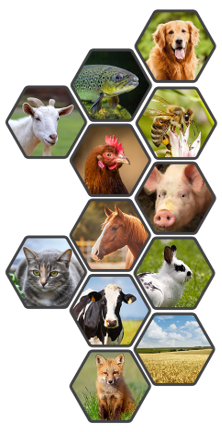 The Ontario Animal Health Network (OAHN) was created to achieve coordinated preparedness, early detection, and response to animal disease in Ontario, through sustainable cross-sector networks. OAHN is a "network of networks" with individual networks for different species/sectors, each of which involves collaboration among veterinarians, animal owners and stakeholders in the field with laboratory, academic and government experts. OAHN recognizes that animal health is inextricably linked to human health in many ways. To help strengthen the link and communication between animal health and public health networks, this report was created especially for public health professionals in Ontario, and highlights pertinent topics from the last 12 months from the OAHN companion animal and other species networks.
---
Ongoing veterinary COVID-19 challenges
One-fifth of veterinary staff who responded to the companion animal network Q2 (Apr-May-Jun) survey reported owners having enquired about SARS-CoV-2 testing in pets since the end of April, but generally testing was not pursued as routine testing of pets for SARS-CoV-2 is still not recommended (as per the position statement of the Council of Chief Veterinary Officers). Many respondents reported that clinics are extremely busy now as they attempt to catch up on routine care appointments.  Most report their clinics still have a locked-door policy, but many have encountered clients becoming increasingly impatient (or even rude) due to ongoing precautions.  Staff burnout and mental health are still a significant concern. For answers to frequently asked questions about COVID-19 and animals, check out How to care for pets and other animals from PHO, and the Animals and COVID-19 page on Canada.ca.
---
Network Highlights
---
Salmonella Dublin septicemia in a puppy (Q4 2019)
A 3-month-old puppy with poor appetite, vomiting and hemtochezia without diarrhea was treated over the course of 3 weeks for suspected enteritis. Despite initial response to therapy, the puppy died suddenly.  On post-mortem exam the puppy was diagnosed with acute bacterial septicemia and large numbers of Salmonella Dublin were isolated. This bacterium is commonly associated with septicemia in calves but is rarely reported in dogs. In Q3 2019, the OAHN Bovine Network summarized and mapped laboratory results for S. Dublin across Ontario from 2012-2019. Isolates from Ontario farms are often multi-drug resistant.  This puppy did not have any direct contact with cattle, but it is suspected there was likely indirect exposure to cattle, possibly via raw treats, the environment or another source.  This case is an important reminder that Salmonella is a risk to pets as well as people, particularly the very young, elderly or immunocompromised.
---
Brucella in breeding kennels: Project summary (Q4 2019)
If you don't know that a puppy's parents were Brucella-free, test it.  That is the take-home message from the 2019 study of B. canis in commercial dog breeding kennels in southwestern Ontario, funded in part by OAHN.  In all, 125/1056 (12%) of dogs and 22/64 (34%) of kennels were positive for antibodies against B. canis.  While a large number of dogs were culled from impacted kennels, veterinarians, physicians and dog owners need to be aware that B. canis is endemic in commercial breeding kennels in at least one region of Ontario.  Infection is also a risk in imported dogs, particularly those that are not spayed or neutered.
---
Bad year for blastomycosis (Q3 2019)
Pets and people can be very important sentinels for one another for certain zoonotic diseases, because pets and their owners often share many environmental exposures.  In Ontario, infection with Blastomyces dermatitidis in people has been reportable since May 2018, and it is annually notifiable in animals. In 2019 there were 81 reported cases of this relatively rare infection in people, compared to 54 cases in 2018.  Only 2% of OAHN survey respondents reported increased cases in pets, but many likely go undiagnosed.  It was also a record year for blasto in dogs in Minnesota with 170 cases reported in dogs up to the end of September 2019.
The two traditional hot spots for blasto exposure in Ontario are around Georgian Bay and Kenora.  Dogs that live in or visit these areas are at risk, but blasto has even been diagnosed in indoor house cats.  Exposure in these cases may be from contaminated potting soil, or possibly from dust stirred up from nearby construction or a weather event that gets into the ventilation.
---
---
UPDATE: Echinococcus multilocularis (Q2 2020)
University of Guelph researchers undertook another study to investigate the prevalence of EM fecal shedding in owned dogs in Ontario by collecting fecal samples from 477 dogs visiting off-leash dog parks in the high-risk Golden Horseshoe from May-November 2018. Fortunately, none of the samples tested positive for EM (Kotwa et al. AAVP Proceedings 2020). A short communication about the study results will be published soon.
In 2019, three cases of fecal shedding of EM in dogs were reported in Ontario, in Niagara, Durham and Kawartha Lakes regions (one of the dogs was recently imported and was likely infected prior to arrival in Canada).  OMAFRA coordinated with the local veterinarian, public health and the Ministry of Health in each case to ensure human and animal health concerns were appropriately addressed.  No cases of infection with this parasite in people (i.e. alveolar echinococcosis) were reported in Ontario in 2019.
More information about E. multilocularis can be found at emultiontario.com.  Also check out our popular OAHN infographic Emerging Risk: Echinococcus multilocularis in Ontario.
---
Poultry: Backyard bird resources
While the popularity of backyard chickens was already on the rise, COVID-19 has pushed this trend to a new level, including the new pandemic pastime of fostering chicks and ducklings, even among city dwellers.  The Ontario government has released a factsheet on keeping your family healthy with backyard poultry, to help inform the public of infectious disease risks associated with keeping live poultry, and how to mitigate them.  Visit the OAHN Poultry Network – Small flock poultry webpage for many other useful resources for poultry owners and veterinarians.
---
Swine: Small-scale herd postmortem project, wild pigs
Similar to the rising trend in backyard poultry, the COVID-19 pandemic also appears to have increased interest in raising small numbers of backyard pigs.  The OAHN Swine Network has launched a study to investigate the health status in small-scale swine herds, as well as to help connect pig owners with local veterinarians, and help expand communications with small-scale producers, who have historically been a challenging group to reach.  This project will provide information detailing the pig health status on these operations, including swine-specific pathogens and pathogens of interest to public health such as Salmonella and Influenza A.
An important One Health issue in the media lately that affects both small- and large-scale swine producers, as well as other livestock and crop producers, human health and ecosystem health, is wild pigs. Pigs are not native to Ontario, but pigs of all kinds (even commercial or pet pigs) can survive remarkably well on their own "outside the fence." They can proliferate rapidly and become very destructive, and are also potential disease reservoirs. For more information on wild pigs in Ontario, and how to report if you've seen a loose pig living on its own, visit Ontario.ca/wildpigs.
---
Bees: Asian Giant Hornet – One Health risks
As invertebrates that feed on plants, honey bees (Apis mellifera) present limited risk for zoonotic diseases, but people, pets and livestock are at risk of stings not just from honey bees but now a new honey bee pest in North America: the Asian Giant Hornet (Vespa mandarinia), or as the media has dubbed it, the "Murder Hornet." This unfortunate nickname has led to panic, misinformation and confusion about this pest, so the OAHN Bee Network has developed a webpage with credible information and links to proper reporting channels for all, and is using the network's listserv to provide timely information to veterinarians, specialists and researchers working with beekeepers.  Fortunately, this hornet has not been found in Ontario; it is still too early to know if it will establish a permanent population on the west coast or elsewhere in North America. For more information, visit the OAHN Bee Network homepage or ontario.ca/page/asian-giant-hornets.
---
Rabies Update
Rabies response and control in Ontario is a joint effort involving the public, animal owners, veterinarians, animal and wildlife control organizations, public health units, the Ontario Ministry of Agriculture, Food and Rural Affairs (OMAFRA) and the Ministry of Natural Resources and Forestry (MNRF). The OMAFRA rabies website includes detailed information for veterinarians about rabies response in Ontario, including the latest surveillance maps.
Remember that ANY direct contact between a pet and a live bat is considered a potential rabies exposure, and ALL* dogs and cats – even if currently vaccinated – require a rabies booster within 7 days of an exposure unless the bat can be tested (and is negative) within this window.

The MNRF distributes oral rabies vaccine (ORV) baits to help limit further spread of rabies in raccoons, skunks and foxes (there is currently no effective means of controlling rabies in bats). Click here for the 2020 baiting schedule. Over 5.8 million oral ORV baits have been distributed since December 2015, and the MNRF has performed close to 20 000 dRIT screening tests as part of their surveillance efforts.
Highlights:
Q3 2019: There were two separate and unexpected cases of rabies in terrestrial animals (a skunk and a mink) outside the rabies control zones. Fortunately, both cases were rapidly confirmed to be due to bat-variant rabies, and therefore did not trigger additional control actions.
Q2 2020: It has now been over 2 years since any fox-variant cases have been detected in Huron County, resulting in a reduction in size of the control zone / baiting area for summer/fall 2020.
Q2 2020: The MNRF continues to seek samples from suspicious terrestrial wildlife in cases where human and domestic animal risk have been ruled out, particularly in rural areas in and around the control zones. Rack cards are available from the MNRF for clinics with rural clients who may come across suitable specimens. The MNRF Rabies Infoline can be reached at 1-888-574-6656.
REMEMBER: Owners who have a concern about potential exposure of one of their animals to rabies should always be referred to their local veterinarian FIRST.  Veterinarians seeking assistance with a rabies risk assessment or animal testing should contact OMAFRA at 1-877-424-1300.
---
OAHN podcasts & infographics
Resources created to help keep veterinarians (and others) up to date on a variety of animal disease topics, and to help veterinarians educate clients and staff.  Here are just a few of the companion animal topics covered:
Chronic diarrhea in dogs and cats
Risks of feeding raw / homemade diets
Ticks and tick-borne diseases
Echinococcus multilocularis in Ontario
Leptopspirosis management / diagnostics
Improving antimicrobial stewardship
Other networks have covered other disease-specific topics (including influenza in swine and poultry), animal welfare issues and even producer mental health.  Check out all the OAHN podcasts at oahn.podbean.com, and infographics on the individual network pages at oahn.ca.
---
Updated IPC best practices for small animal clinics
The Infection Prevention and Control Best Practices for Small Animal Veterinary Clinics, originally published in 2008, has been refreshed for 2020! Updates have been made throughout all chapters, and new chapters have been added. The complete table of contents and download links can be found at oahn.ca/resources/ipc-best-practices.
Network Team:
Eastern ON:

Dr. Ryan Llera

Southern ON:

Dr. Emma Webster

Northern ON:

Dr. Hailey Bertrand

Animal Health Lab:

Dr. Kris Ruotsalo

Dr. Marg Stalker

Ontario Vet College:

Dr. Scott Weese

Dr. Shauna Blois

OMAFRA:

Dr. Maureen Anderson

Dr. Tim Pasma

Network coordinator:

Dr. Melanie Barham