Ontario Rabies Update May 25, 2022 – 1 New Case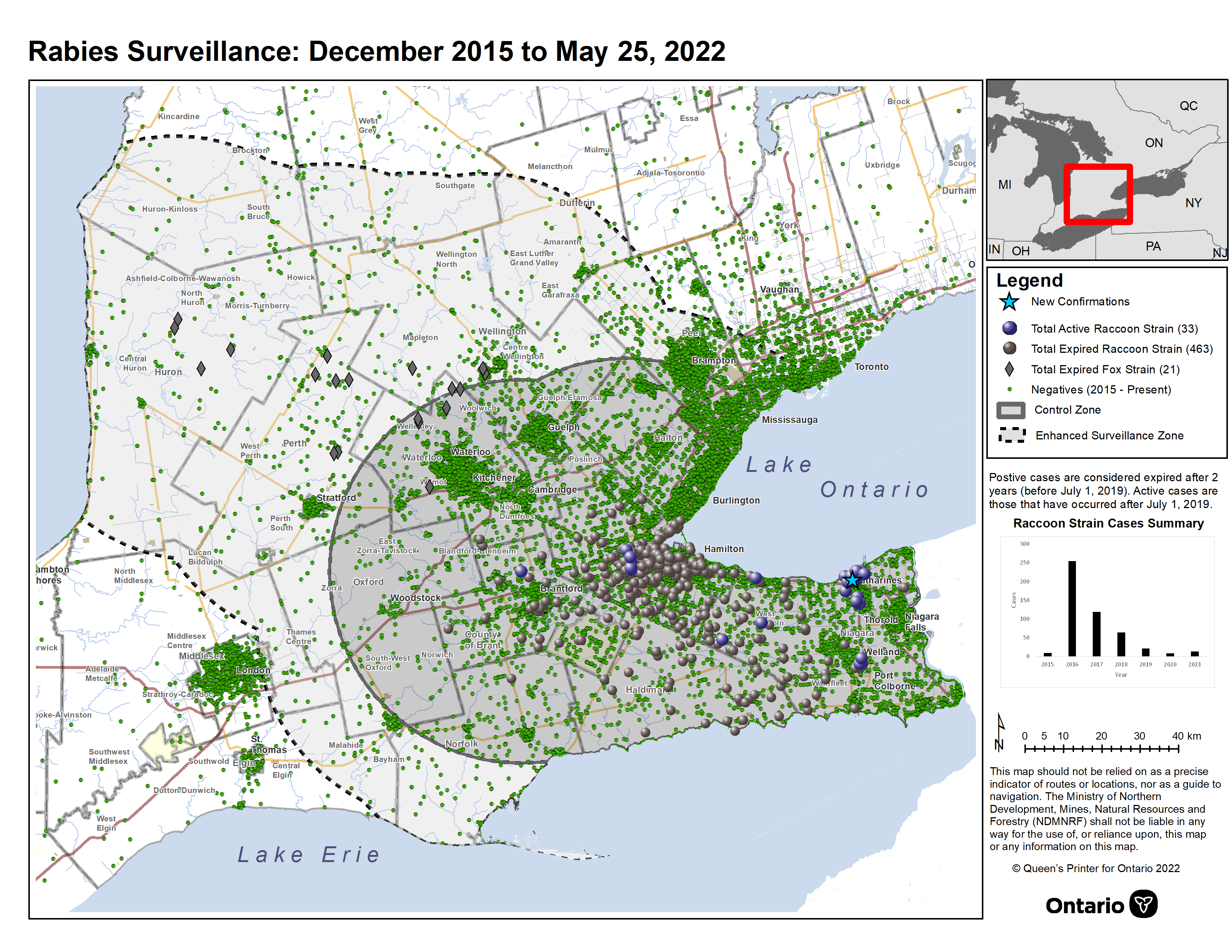 One new case of rabies detected in one skunk (Niagara) this week (May 25, 2022). The sample was tested through Public Health. 
We are currently at 496 cases of raccoon strain (463 expired and 33 active), and 21 cases of fox strain rabies (21 expired) in Ontario to date.
Annual Summaries
2022
County

Raccoon

Skunk

Fox

Cat

Bovine

Dog

Total

Brant

0

0

0

0

0

0

0

Haldimand

0

0

0

0

0

0

0

Halton

0

0

0

0

0

0

0

Hamilton

0

0

0

0

0

0

0

Huron

0

0

0

0

0

0

0

Niagara

0

2

0

0

0

0

2

Norfolk

0

0

0

0

0

0

0

Perth

0

0

0

0

0

0

0

Waterloo

0

0

0

0

0

0

0

Waterloo

0

0

0

0

0

0

0

Wellington-Dufferin-Guelph

0

0

0

0

0

0

0

Total Fox Strain

0

0

0

0

0

0

0

Total Raccoon Strain

0

2

0

0

0

 

0

2
Number of DRIT tests: 1,829
Number of baits distributed: 0
2021
County

Raccoon

Skunk

Fox

Cat

Bovine

Dog

Total

Brant

0

0

0

0

0

0

0

Haldimand

0

0

0

0

0

0

0

Halton

0

0

0

0

0

0

0

Hamilton

0

0

0

0

0

0

0

Huron

0

0

0

0

0

0

0

Niagara

2

12

0

0

0

0

14

Norfolk

0

0

0

0

0

0

0

Perth

0

0

0

0

0

0

0

Waterloo

0

0

0

0

0

0

0

Waterloo

0

0

0

0

0

0

0

Wellington-Dufferin-Guelph

0

0

0

0

0

0

0

Total Fox Strain

0

0

0

0

0

0

0

Total Raccoon Strain

2

12

0

0

0

 

0

14
Number of DRIT tests: 2,872
Number of baits distributed: 841,700
2020
County

Raccoon

Skunk

Fox

Cat

Bovine

Dog

Total

Brant

0

0

0

0

0

0

0

Haldimand

0

0

0

0

0

0

0

Halton

0

0

0

0

0

0

0

Hamilton

0

2

0

0

0

0

2

Huron

0

0

0

0

0

0

0

Niagara

3

4

0

0

0

0

7

Norfolk

0

0

0

0

0

0

0

Perth

0

0

0

0

0

0

0

Waterloo

0

0

0

0

0

0

0

Waterloo

0

0

0

0

0

0

0

Wellington-Dufferin-Guelph

0

0

0

0

0

0

0

Total Fox Strain

0

0

0

0

0

0

0

Total Raccoon Strain

3

6

0

0

0

 

0

9
Number of DRIT tests: 3,358
Number of baits distributed: 1,155,657
2019
County

Raccoon

Skunk

Fox

Cat

Bovine

Dog

Total

Brant

1

1

0

0

0

0

2

Haldimand

1

0

0

0

0

0

1

Halton

0

0

0

0

0

0

0

Hamilton

6

8

0

0

0

0

14

Huron

0

0

0

0

0

0

0

Niagara

1

2

0

0

0

1

4

Norfolk

0

0

0

0

0

0

0

Perth

0

0

0

0

0

0

0

Waterloo

0

1

0

0

0

0

1

Waterloo

0

0

0

0

0

0

0

Wellington-Dufferin-Guelph

0

0

0

0

0

0

0

Total Fox Strain

0

0

0

0

0

0

0

Total Raccoon Strain

9

12

0

0

0

 

1

22
Number of DRIT tests: 4,425
Number of baits distributed: 1,164,992
2018
| | | | | | | |
| --- | --- | --- | --- | --- | --- | --- |
| County | Raccoon | Skunk | Fox | Cat | Bovine | Total |
| Brant | 6 | 0 | 0 | 0 | 0 | 6 |
| Haldimand | 4 | 0 | 0 | 0 | 0 | 4 |
| Halton | 0 | 0 | 0 | 0 | 0 | 0 |
| Hamilton | 29 | 7 | 0 | 0 | 0 | 36 |
| Huron | 0 | 1 | 0 | 0 | 0 | 1 |
| Niagara | 10 | 7 | 0 | 0 | 0 | 17 |
| Norfolk | 1 | 0 | 0 | 0 | 0 | 1 |
| Perth | 0 | 0 | 0 | 0 | 1 | 1 |
| Waterloo | 0 | 1 | 0 | 0 | 0 | 1 |
| Waterloo | 0 | 2 | 0 | 0 | 0 | 2 |
| Wellington-Dufferin-Guelph | 0 | 3 | 0 | 0 | 0 | 3 |
| Total Fox Strain | 0 | 6 | 0 | 0 | 1 | 7 |
| Total Raccoon Strain | 50 | 15 | 0 | 0 | 0 | 65 |
Number of DRIT tests: 3,535
Number of baits distributed: 1,444,161
2017
| | | | | | | |
| --- | --- | --- | --- | --- | --- | --- |
| County | Raccoon | Skunk | Fox | Cat | Bovine | Total |
| Brant | 8 | 0 | 0 | 0 | 0 | 8 |
| Haldimand | 6 | 2 | 0 | 0 | 0 | 8 |
| Halton | 8 | 9 | 0 | 0 | 0 | 17 |
| Hamilton | 45 | 19 | 0 | 1 | 0 | 65 |
| Huron | 0 | 1 | 0 | 0 | 1 | 2 |
| Niagara | 19 | 2 | 0 | 0 | 0 | 21 |
| Perth | 0 | 1 | 0 | 0 | 3 | 4 |
| Waterloo | 0 | 3 | 1 | 0 | 0 | 4 |
| Total Fox Strain | 0 | 5 | 1 | 0 | 4 | 10 |
| Total Raccoon Strain | 86 | 32 | 0 | 1 | 0 | 119 |
Number of DRIT tests: 3,985
Number of baits distributed: >1.1M
2016
| | | | | | | | |
| --- | --- | --- | --- | --- | --- | --- | --- |
| County | Raccoon | Skunk | Fox | Cat | Llama | Bovine | Total |
| Brant | 11 | 1 | 0 | 0 | 0 | 0 | 12 |
| Haldimand | 17 | 0 | 0 | 0 | 1 | 0 | 18 |
| Halton | 7 | 2 | 0 | 0 | 0 | 0 | 9 |
| Hamilton | 126 | 76 | 1 | 1 | 0 | 0 | 204 |
| Huron | 0 | 1 | 0 | 0 | 0 | 0 | 1 |
| Niagara | 10 | 2 | 0 | 0 | 0 | 0 | 12 |
| Perth | 0 | 1 | 0 | 0 | 0 | 1 | 2 |
| Total Fox Strain | 0 | 2 | 0 | 0 | 0 | 1 | 3 |
| Total Raccoon Strain | 171 | 81 | 1 | 1 | 1 | 0 | 255 |
Number of DRIT tests: 4,586
Number of baits distributed: >1.6 million
2015 (December only)
| | | | |
| --- | --- | --- | --- |
| County | Raccoon | Bovine | Total |
| Haldimand | 1 | 0 | 1 |
| Hamilton | 9 | 0 | 9 |
| Perth | 0 | 1 | 1 |
| Total Fox Strain | 0 | 1 | 1 |
| Total Raccoon Strain | 10 | 0 | 10 |
Number of DRIT tests: 145
Number of baits distributed: ~220,000