Focus on: veterinarians within OAHN
Veterinarians today are not just in the exam room or doing procedures on farm; they are part of communities, advocating for agriculture and responsible pet ownership, or taking different roles within the profession. Veterinarians fill roles within public health, food safety, policy, government, extension, laboratories, academia, national defense, drug development.  Veterinarians, the ultimate versatile role!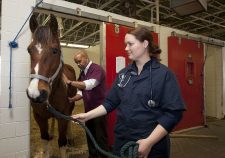 At the Ontario Animal Health Network, we rely on veterinarians to provide us with feedback about what they are seeing in the field by completing our surveys.  Veterinarians work on our networks to interpret the multiple data sources and create meaningful information for colleagues in the field and farm, and for producers/owners.  Many of our co-leads from OMAFRA and private industry are veterinarians, providing leadership and injecting passion into the networks.  Our governing group, the Disease Surveillance Plan Executive Committee, is also comprised of a healthy ratio of veterinarians and non-veterinarians. 
We'd like to thank all the veterinarians who complete our surveys, are part of our networks, advise us, and help to share what OAHN is doing.  To read more about how veterinarians are part of OAHN, click here: https://www.oahn.ca/what-is-oahn/ and all of our team members: www.oahn.ca under "Team".