OAHN's Varroa Mite Awareness Campaign 2018

The Ontario Animal Health Network
presents the
1st Ontario Varroa Mite Awareness Campaign
FINDINGS FROM VARROA MITE AWARENESS WEEK

Thank you to all of the Ontario beekeepers that took part in our awareness week and filled in our survey. We received a large amount of responses, and we've now mapped them using Google Maps. This is our first attempt, and next year we hope to have a more advanced version of this map, with many improvements. Please note that all markers on the map represent counties/municipalities/townships and in no way represent a specific address of yard.
What is the Varroa Mite Awareness Campaign?
The goal of the Varroa Mite Awareness Campaign 2018 is to increase knowledge of varroa mite testing and treatment in Ontario, and to gain information from all parts of the beekeeping sector (hobbyist and commercial) about varroa levels.  The OAHN bee network's goal is to provide high quality information that beekeepers can use to make the best possible treatment decisions in the fall of 2018 based on real data.  Here's the scoop:
PART 1 (AUGUST 2018): FREE VARROA MITE WORKSHOPS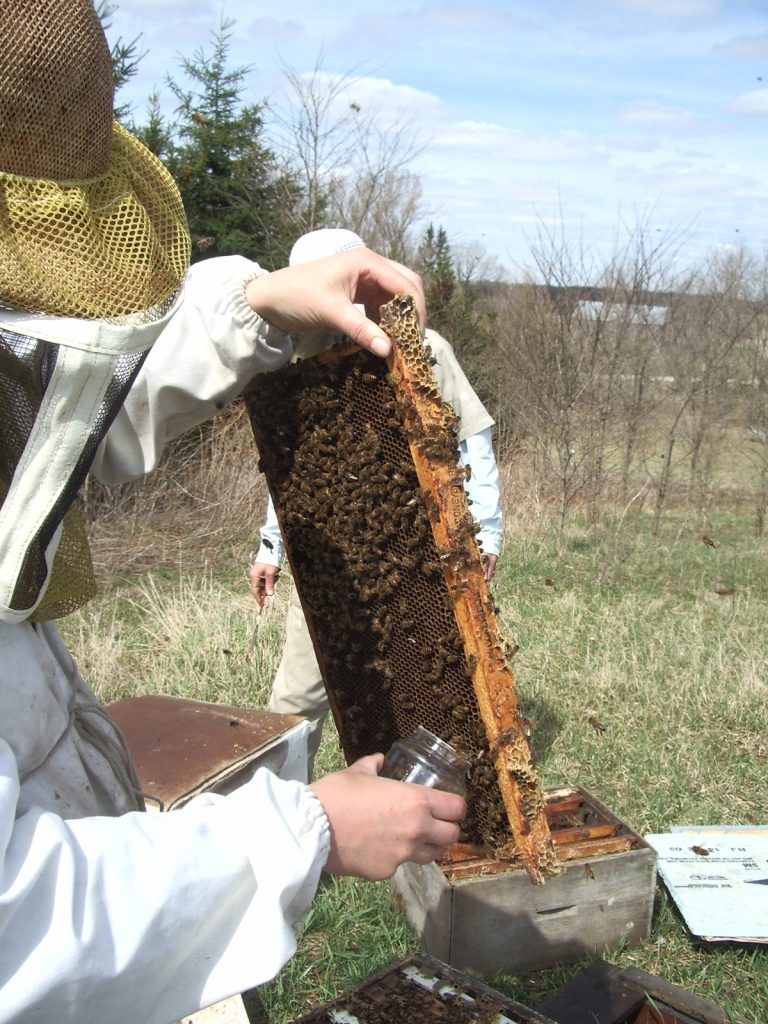 Throughout the month of August, Ontario beekeepers are invited to attend free hands-on workshops on varroa mite testing provided by experienced beekeepers.
Hosts will demonstrate three important techniques for testing for varroa mites, best practices, tips and tricks, interpretation, and treatment recommendations.  The workshops are an excellent opportunity to  network with other beekeepers, and even if you have a few years under your belt, pick up some new tricks, or share your experience with others.
Scroll down for workshop dates/times/locations, and to secure your free tickets.
PART 2 (SEPT 9-16th 2018): VARROA MITE AWARENESS WEEK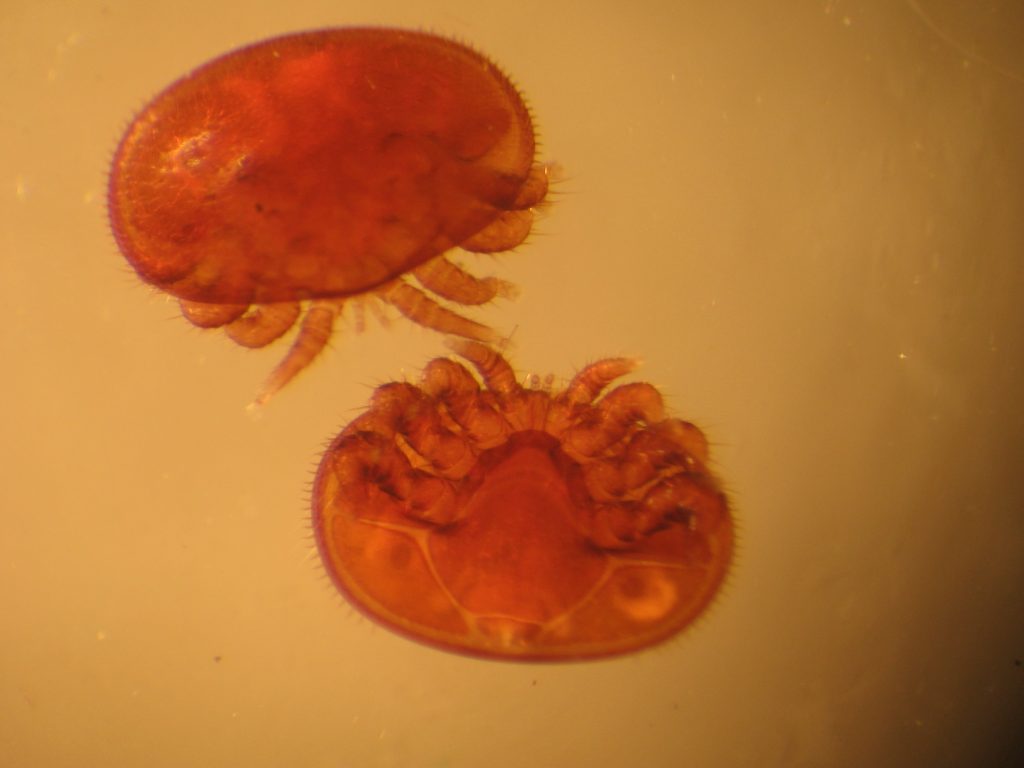 Mark your calendars!  All beekeepers in Ontario are asked to check their varroa levels in the week of September 9-16th, 2018.  After recording your varroa levels, and visit this page, and log your results and county to win prize packs from our sponsor beekeeping suppliers!  The results will be mapped without any identifiers (no names, addresses etc), and only down to township/county level, and posted on this page.  All levels of beekeepers, all sizes of operations are encouraged to contribute; the more varroa counts we have, the better armed we can be to make good treatment decisions this fall!  The logging system is quick and easy to use, and is customized to commercial vs. smaller operations.  Logging your levels can be done from anywhere you have cell reception.
Why should I care about my varroa mite levels in my colony?  What is a varroa mite?
Varroa mites are parasites that live on bees (see photo to the upper right).  They carry viruses and bacteria that are harmful to bees, sort of like ticks of the bee world.  However, varroa mites are much bigger in relation to the bee's body size when compared to ticks on humans.  If bees carry too many mites, they can become unable to fly, succumb to diseases, or die.  If colonies have too high of a varroa level, they can have poor colony health, leading to poor health outcomes overall.  Beekeepers who manage their varroa levels are able to maintain hive health at much higher levels, producing more honey, and leading to healthier hives going into winter.  Because bees co-mingle, or interact with many other bees in the course of each day, there is potential for spread of mites in local regions. Thus, monitoring just your own hive is not always enough to ensure a health hive.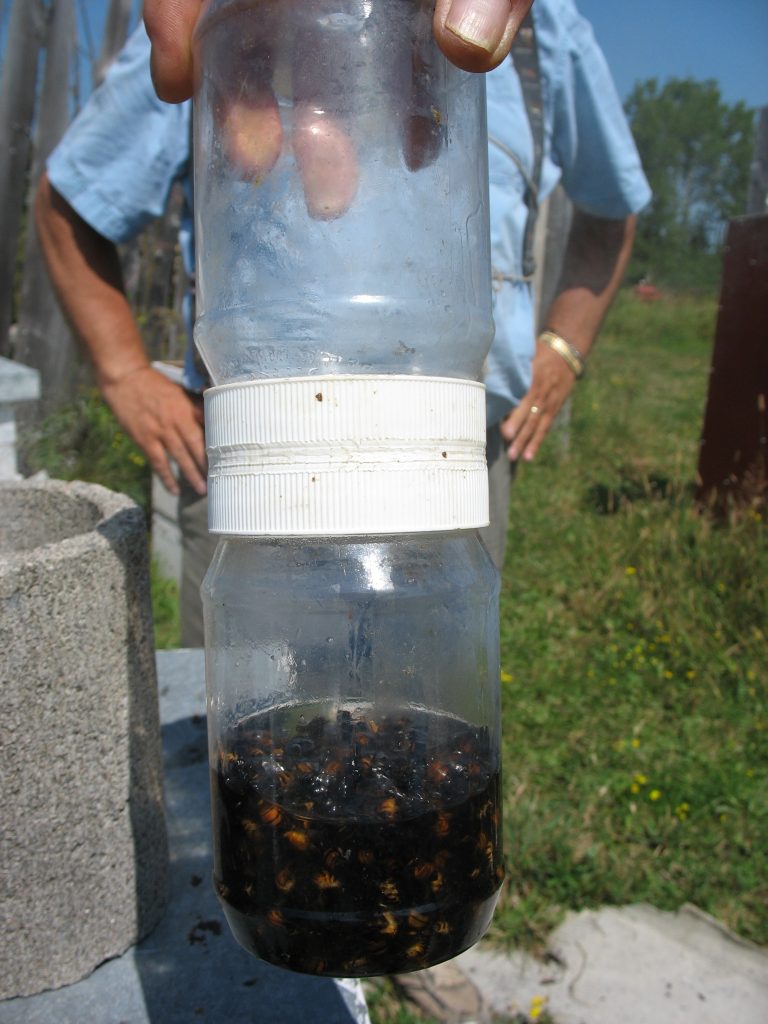 Varroa mite alcohol wash technique
How secure is my information?
When you log your information with us, we use a secure, Canadian based software to log your information.  The software is the same as is used for other OAHN networks, where we log disease information from hundreds of veterinarians.  Confidentiality of your information is our top priority, and the data you enter will not be used for other purposes other than mapping.  We will be sharing the aggregate (non-identifying information) with researchers at the Ontario Veterinary College who will be doing further analysis on the data to help us make optimal use of varroa level tracking for your benefit.  When we publish the map, there will NOT EVER be information that identifies your bee yard, name, location (other than township/county).
How can I use the map when it is published?
The OAHN bee network has recognized the need to understand our varroa levels locally to help with treatment decisions, and monitoring decisions.  With enough beekeepers sharing their information, you will be able to see what the varroa levels are in your geographic area.  If your levels are low, but the area has high levels, you may wish to increase your monitoring to ensure good overwintering.  If your levels are high, but the rest of the area is low, it may be time to review management practices or treatment thresholds.
What prizes are offered for logging my results?
We have had generous donations from:
2 Easy Check Mite checkers (Value $19.95 each)
Pull Down Veil Beekeeper Hat ($21)
4 Bee Brushes ($8.25 each)
2 Smokers ($29.50 each)
6 Wooden Honey Dippers (95 cents each)
4 J Hook Hive Tools ($9.75 each)
2 Smoker Fuel ($5.15 each)
4 Hive Tools ($9.5 each)
Ontario Beekeepers' Association
2 memberships (Value $100 each)
How can I help make this campaign a success?
Please share this page with any beekeepers, groups, or listservs you may be part of.  Promotional posters will also be available and can be posted on social media, or printed and posted in public locations.  If you are a beekeeping supply store,  group etc and would like to get involved, please let us know by emailing oahn@uoguelph.ca.  We would be happy to mail you posters for your store.
Campaign organizers/collaborating organizations:
Varroa Mite Awareness Week is a collaborative effort between: Ontario Animal Health Network, Ontario Ministry of Agriculture, Food, and Rural Affairs (OMAFRA), University of Guelph, the Ontario Beekeeper's Association, Tech Transfer Program, Niagara College Commercial Beekeeping Program, and the Animal Health Laboratory.
Sponsors:
Thank you to our generous sponsors who have provided supplies for prize packs, materials for workshop mite demonstrations. See their links and what they provided above.
Volunteers:
We would like to gratefully acknowledge the following people for their donation of time to the campaign.
OAHN bee network members: Wael Haddad (OMAFRA), Paul Kozak (OMAFRA), Jim Coneybeare (Coneybeare Honey), Emily Mills (Emily Rose Apiaries), Andre Flys (Pioneer Brand Honey), Mylee Nordin (Niagara College Commercial Beekeeping Program)
Volunteer workshop hosts: Gregg Scott (Circling Hawk Farm), Dan Douma (Humbe Bee), Peter Chorabik (Toronto Bee Rescue)
Resources
We are busy putting together videos and other resources for Ontario Beekeepers. Below we have linked to all of our current resources: