Veterinary Need-2-Know (N2K) Update – CA Q2 2022
Ontario Animal Health Network (OAHN)
Companion Animal Expert Network
Veterinary Need-2-Know (N2K) Update – Q2 2022
OAHN spring survey and lab data: Key results
There were 78 survey respondents from 33 counties, including primary care, referral, emergency and mobile practices. Overall a smaller proportion of respondents reported significant infectious disease concerns this spring compared to the same time last year.  Two respondents noted major increases in heartworm cases, and concern was expressed regarding decreased use of heartworm preventatives compared to flea and tick control.  Concerns regarding canine infectious respiratory disease complex (CIRDC) in vaccinated dogs, and more cases of CIRDC progressing to pneumonia, were also noted. Some unusual cases of fungal infections in dogs (including but not limited to Blastomyces) were also reported.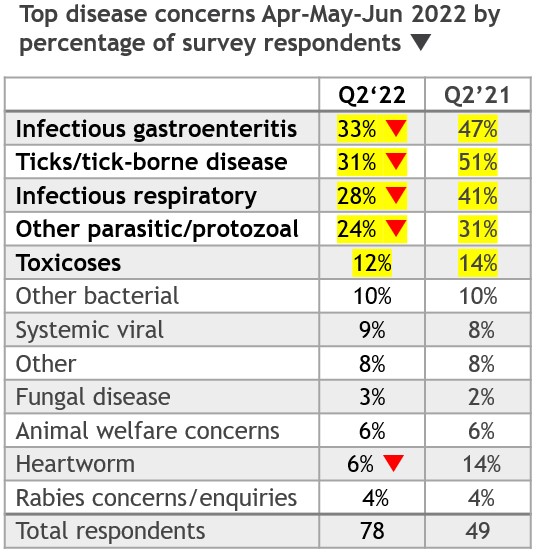 Rabbit hemorrhagic disease virus 2 (RHDV2) was confirmed in Ontario for the first time this spring. Thus far three rabbits on two unrelated premises have tested positive.  This is a federal immediately notifiable disease, the response to which is currently handled by the Canadian Food Inspection Agency (CFIA).  More information about RHDV2 is available on the CFIA website, and the OMAFRA veterinary advisory and industry updates.  OVMA members can also access a recorded webinar from June 30th through the OVMA website.  If you encounter suspect cases, check the AHL lab note on options for submitting samples.  This is a deadly virus for rabbits that survives well in the environment, so biosecurity and infection control measures are critically important to help contain its spread.
---
Dog importation ban: September 28, 2022
The Canadian Food Inspection Agency (CFIA) has announced that as of September 28, 2022, commercial dogs from over 100 countries considered high-risk for canine rabies will no longer be permitted entry into Canada. Commercial dogs can include, but are not limited to, dogs for resale, adoption, fostering, breeding, show/exhibition, or research.  The ban follows the detection of two cases of canine rabies in dogs imported from Iran over a 6 month period. In July 2021, the US CDC temporarily banned importation of all dogs from the same high-risk countries. In June, they announced an extension of the ban to 2023, with some added provisions to facilitate importation of personal dogs.  The CFIA is continuing to explore options to strengthen the requirements for the import of personal and assistance dogs from these countries as well.
OAHN is seeking dogs to participate in a study examining rabies antibody titres in dogs vaccinated abroad. Dogs that have been recently imported from a high-risk country and have a foreign rabies vaccination certificate are eligible. For additional information, please contact Dr. Scott Weese (jsweese@uoguelph.ca) or email oahn@uoguelph.ca.
With the ongoing war in Ukraine, displaced dogs from this terrible conflict might also be imported to Canada. Check out the OAHN Veterinary Checklist: Dogs imported from Ukraine for more information on diseases at which these dogs may be at risk and how to manage them.
---
Monkeypox and animals: Unknowns
Since May 2022, monkeypox has been spreading among people in dozens of countries around the world, including Canada.
Before now, this zoonotic disease occurred primarily in central and west Africa, and occasionally amongst travelers to this area.  Although African rodents are the most likely reservoir of the virus, information on susceptibility of other animal species (including North American and various pet rodents) is very limited.
Because of the large number of unknowns regarding monkeypox, recommendations for pets of individuals who may be infected with this virus are very similar to those for cases of COVID-19:
Treat the animal like a human member of the household by avoiding contact as much as possible.
Keep the pet indoors as much as possible.
If there is no one else in the home who can care for the pet, avoid very close contact, cover all skin lesions and pay close attention to hand hygiene when handling the pet or anything in its environment.
Pets from infected households should be managed by telemedicine whenever possible. If not, contact OMAFRA (877-424-1300) for advice on appropriate precautions before seeing the animal.
Preventing exposure of rodents, especially wild rodents, is particularly important, in order to avoid introducing the virus to the wildlife population where it could create a wildlife reservoir.
---
Rabies: Hot spot, bait drop, new map
---
Another case of AE
---
REVISED Lyme disease infographic
---
Smallholder & pet swine course for vets
---
Looking for flukes
A Pet Trust-funded is currently recruiting clinics to participate in a surveillance study for the lung fluke Paragonimus kellicotti, particularly in the Goderich area. For more information, contact Dr. Scott Weese (jsweese@uoguelph.ca).  Also check out the OAHN infosheet for veterinarians about this lung fluke for information on transmission, clinical signs, diagnosis, and treatment.
---
---
OAHN disease reporting portal
If you are seeing cases of uncommon or imported diseases in your area, OAHN would like to hear about it!  Cases can be reported anytime using the OAHN online disease reporting portal.
Help us help you!
Have an idea for an infographic you'd like to see, or a podcast you'd like to hear? Email oahn@uoguelph.ca to let us know!