Ontario Animal Health Network (OAHN)
Equine Expert Network
Quarterly Veterinary Report
BITS 'N SNIPS (or "things we talked about on the network call")
Bladder stones (cystic calculi, uroliths)
There was a perceived increase in the number of bladder stones diagnosed at OVC and by one practitioner during Q4.  Here's a bit about what is known:
The prevalence remains low . There is no breed predilection.
Geldings are more commonly affected as they have a less distensible urethra. Mares can pass smaller stones more easily.
Bladder stones in horses consist mainly of calcium carbonate, the main crystal in equine urine, are spheroid in shape and have a rough spiculated to smooth surface.  They form in alkaline urine.
E.coli and Streptococcus sp. are the most common bacteria isolated from the stones. The calculus itself should be sent for bacterial culture as the urine is often negative for bacteria.

Bladder stone. Photo credit: Dr. Sarah Shaw

Mucus is common in equine urine and it may be protective against stone formation. Urine flow rate and other urine constituents may also play a role.

Mineralization around a nidus, such as epithelial cells from an UTI, is thought to favour the development of a calculus. Crystals already present in urine then add to the nidus to increase the  size.
Clinical signs include dysuria, hematuria (worse after exercise), urine scalding due to incontinence and sometimes colic. In rare cases, the bladder may rupture leading to uroperitoneum.
Laboratory values are normal, however, kidney enzymes may be increased with renal/ureteral uroliths. Urinalysis will demonstrate protein, hematuria and pyuria with bladder/urethral calculi.
Diagnosis is by rectal palpation, transrectal ultrasound and/or cystoscopy. Often the stones are located within the pelvic canal, at wrist level, in the neck of the bladder.
Treatment: several types of surgeries are available, with and without lithotripsy. In mares, manual removal can often be used with sedation/epidural.
Prevention: Since CaCO3 should dissolve in an acidic environment., many veterinarians promote using urinary acidifiers such as oral ammonium chloride, ammonium sulfate or ascorbic acid (vitamin C) (4g PO BID) with varying results. Water intake should be increased and often salt is recommended to accomplish this. Reducing protein, calcium, phosphorus and magnesium in the diet may help .
References:
Equine urolithiasis. Duesterdieck-Zellmer KF.Vet Clin North Am Equine Pract. 2007 Dec;23(3):613-29, vi. doi: 10.1016/j.cveq.2007.09.003.
Equine coronavirus (ECoV)
There was an increase in horses diagnosed with equine coronavirus (ECoV) this quarter. Here is a summary of what is known.
More horses are diagnosed in the winter months in North America. Individual cases as well as outbreaks can occur.
Draft horses may be predisposed, but it is unknown why.
In an outbreak, morbidity ranges from 10-83%, deaths or rare , but if they occur, they are generally due to endotoxemia and/or hyperammonemic encephalopathy (HE) secondary to bacterial changes in the gastrointestinal tract leading to ammonia absorption systemically.
Transmission is by the fecal-oral route and incubation time is 48-72 hours.
Clinical signs most commonly are fever, anorexia and lethargy. Diarrhea and/or colic are less consistent. When gastrointestinal signs occur, the disease is hard to differentiate from other causes. Horses with  HE may demonstrate ataxia, head pressing, recumbency and/or seizures.
Laboratory results may indicate a leukopenia due to neutropenia and/or lymphopenia. Monocytosis / neutrophilia may be seen when recovering.  Horses with encephalopathy will have increased blood ammonia levels (serum/plasma samples should be frozen ASAP).
Diagnosis – PCR testing on feces/rectal swab will be positive for ECoV. Blood / nasal swab PCR testing should not be relied upon for a diagnosis. Peak shedding of ECoV will occur 3-4 days after onset of clinical signs and will continue for 12-14 days.  A false negative fecal PCR may occur if the horse is tested too early in the disease process, so repeat testing or sampling over several days and submitting a pooled sample should be performed.
Since ECoV in the early stages mimics many upper respiratory infections, Dr. Pusterla recommends submitting a fecal sample with the respiratory swabs so that an ECoV PCR can be run if the respiratory swabs are negative.
Treatment: Supportive care. Lactulose and/or fecal transfaunation can be provided to horses with HE.
Biosecurity: Isolate horses with ECoV for at least 2-3 weeks following the resolution of clinical signs. ECoV is susceptible to heat, detergents and several disinfectants (bleach, Prevail, Virkon).
References: Equine Coronaviruses.Pusterla N.Vet Clin North Am Equine Pract. 2022 Nov 21: Review.
SARS-CoV-2 in horses
Dr. Pusterla has summarized the available  information here: The Modern Equine Vet – January 2023 by The Modern Equine Vet – Issuu
Here is what is known:
Horses have the ACE-2 receptor that binds the SARS-CoV-2 spike protein and are therefore susceptible to SARS-CoV-2 infection (as detected from antibody production) from having contact with people with COVID-19. However, horses seem to be dead end hosts, do not become clinically affected and do not shed the virus (at least it has not been detected from various samples). Horses are unlikely to contribute to the spread of SARS-CoV-2, however, since variants of the virus continue to emerge, it is still recommended that people with COVID-19 avoid contact with horses.
Further references:
Equine Coronaviruses.Pusterla N.Vet Clin North Am Equine Pract. 2022 Nov 21: Review.
Horses Are Susceptible to COVID Virus, but Not Disease – The Horse
Seroprevalence of SARS–CoV–2 in 1186 Equids Presented to a Veterinary Medical Teaching Hospital in California from 2020 to 2022.Lawton K, Keller SM, Barnum S, Arredondo-Lopez C, Spann K, Pusterla N.Viruses. 2022 Nov 11;14(11):2497. doi: 10.3390/v14112497.PMID: 36423106 Free PMC article.
SARS–CoV–2 Seroconversion in an Adult Horse with Direct Contact to a COVID-19 Individual.Pusterla N, Chaillon A, Ignacio C, Smith DM, Barnum S, Lawton KOY, Smith G, Pickering B.Viruses. 2022 May 14;14(5):1047. doi: 10.3390/v14051047.PMID: 35632788 Free PMC article.
Investigation of the Role of Healthy and Sick Equids in the COVID-19 Pandemic through Serological and Molecular Testing.Lawton KOY, Arthur RM, Moeller BC, Barnum S, Pusterla N.Animals (Basel). 2022 Feb 28;12(5):614. doi: 10.3390/ani12050614.PMID: 35268183 Free PMC article.
Melanomas
We had a brief conversation  regarding how the number of melanomas diagnosed on biopsy increases in Q4 but this may be due to owners wanting blemishes removed during the off season or looking to prepare mares for the breeding season and not to an actual increase in presentation.
Here are a couple of recent interesting papers on melanoma:
This is a review of the genetics behind melanoma formation and the link between the graying process and the development of these tumours
Equine Melanocytic Tumors: A Narrative Review. Pimenta J, Prada J, Cotovio M Animals (Basel). 2023 Jan 10;13(2):247. Free PMC article.
This is an interesting case report of a what was initially diagnosed as a keratoma and became an anaplastic malignant melanoma in the hoof.
From Keratoma to Anaplastic Malignant Melanoma in a Horse's Hoof.Stefanik et alAnimals (Basel). 2022 Nov 9;12(22):3090.  Free PMC article.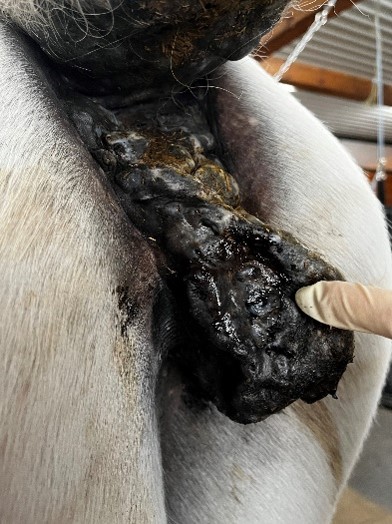 ---
Network Member Reports
Southwestern Region

(Melissa McKee)

Situations occurring in our region included an EHV-1 outbreak, and a strangles outbreak that is still smoldering. We've seen some lethargic horses with  possible coronavirus infection which have poor motility, repeated impactions and intermittent fevers. In the racehorse population, the acute injuries lessened significantly this quarter likely due to fewer horses racing under slightly less pressure.  Many of the racehorses had a track rash presumed to be related to the calcium-based treatments to the track. We also had a few small colon impaction cases, all of which are doing well and there was an outbreak of an upper respiratory tract virus at a boarding stable. We also had one interesting case of sudden hypersensitivity/hyperesthesia of the trapezius muscles and abnormal forelimb movement in a hunter pony with normal imaging, Lyme testing was negative, saddle fit was fine. We assumed it was due to idiopathic or traumatic neuritis. The mare was treated with gabapentin and mesotherapy and blankets and equipment were avoided for 30 days. She has recovered well.  Two race mares with bladder stones were diagnosed in the last 2 months.  Both stones were removed manually in the field. Lastly, we diagnosed two horses with left hind peroneus tertius ruptures

Rupture of the peroneus tertius tendon in 27 horses. Koenig J, Cruz A, Genovese R, Fretz P, Trostle S.Can Vet J. 2005 Jun;46(6):503-6.PMID: 16048009 Free PMC article.

Western Region

(Tara Foy)

In our region we have also seen many racehorses with ongoing upper respiratory tract disease. We also saw quite a number of horses with colic through November and December, many with impactions but also a few torsions.  We also diagnosed many fractures (condylar, paster, sesamoid) in November and December as well.  One horse that shipped up from the US became recumbent and neurologic a couple days after arrival.  She was euthanized and tested negative for EHV-1. A postmortem was not performed.. No other horses on the farm were, or became, ill. There were a few abortions in the region in  the fall which may have been subjectively increased over normal.

Eastern Ontario

(John Donovan)

Overall, it was a pretty quiet quarter. We saw a few impaction colics as a result of winter weather and water access as well as a few cases of "fever of unknown origin", with one case confirmed with coronavirus. We also saw some cases of equine winter diarrhea "winter squirts" associated with course fibre diets. A horse was euthanized as a result of a distal limb fracture resulting from a "poor footing/ice pasture" injury.
Ontario Veterinary College

(Memo Arroyo)

 There was a typical number of colic cases that were admitted over Q4 but there was a little increase in coronavirus cases with clinical signs of fever and colitis. A few small colon impactions were diagnosed and some were positive for Salmonella sp. We also saw some horses with rectal tears but, unusually, the causes were unknown. We had a few horses with EHM admitted more recently. We admitted an older horse with a fever and blood in the rectum, which developed peritonitis. It was euthanized and was diagnosed with a small colon tumour with metastases to the lung and stomach. Lastly, we diagnosed a few horses with bladder stones. One had a ruptured bladder. Surgery was not an option so a urinary catheter was placed until the bladder healed
AHL Pathology

(Emily Ratsep)

•21 yo gelding -2 week history of respiratory disease. The gelding developed polycythemia, increased respiratory and heart rates and a marked amount of free fluid was present in the thorax and abdomen. Diagnosis: solid carcinoma with carcinomatosis and dissemination to the lung, liver, spleen, diaphragm, omentum and lymph nodesHistological examination is consistent with a diagnosis of carcinomatosis as neoplastic epithelial cells are present within numerous thoracic and abdominal tissues. A primary renal carcinoma is proposed due to the unilateral presentation, size, and histologic organization of the neoplasm within the left kidney; however, an extra-renal or adrenal primary carcinoma are also considered. Renal carcinoma in the horse is rare. It can occur over a wide range of ages with no sex predilection. Clinical signs are vague and include weight loss, colic, and hematuria, but often occur late in the disease process once the tumor has metastasized (1). The strong immunoreactivity of the neoplastic cells with vimentin and lack of immunoreactivity with synaptophysin rules out a neuroendocrine origin for the carcinomatosis. Vimentin immunoreactivity is present in renal carcinomas as well as carcinomas derived from the adrenal cortex.

•13yo QH mare Severe neurological ataxia. Recent therapy: Toltrazuril- therapy ended approx. 2 months ago. Diagnosis: Acute skull fracture was identified by gross postmortem examination.  Presumptive equine protozoal myelitis. Significant histologic lesions were identified in spinal cord and brain, and  represent 2 separate and distinct disease processes. These include lesions in cervical spinal and mild cerebral hemorrhage associated with the basilar skull fracture, and a more chronic localized lesion in thoracic spinal cord.  Axonal injury in cervical spinal cord is acute and concentrated at the periphery of  cord. The lesions reflects traumatic injury to spinal cord associated with recent fracture at the caudal aspect of skull. In contrast, a localized, unilateral spinal cord lesion at T6 is inflammatory and degenerative, and is of longer duration (chronic).  Histologic features of the T6 lesion and mixed inflammatory cell contribution support the clinical diagnosis of equine protozoal myelitis (EPM) due to Sarcocystis spp as the etiology for this lesion.  Protozoa are not observed within the lesion, however histopathology is not a sensitive method for detection of protozoa in CNS lesions, especially in chronic cases. The relative ages of the gross and histologic lesions in spinal cord, brain, and skull are compatible with pre-existent EPM, and more recent skull fracture.

9 yo SB gelding-: Horse trained on Wednesday and the trainer identified the horse as tied up afterwards, and treated him with flunixin. Unfortunately, the horses condition continued to deteriorate. Muscle and kidney enzymes were increased on laboratory results.. The horse was referred to a hospital for treatment where he died following a procedure.  Histologic lesions in the skeletal muscle and kidneys are compatible with rhabdomyolysis/ myoglobinuric nephrosis by which this animal was already compromised, per the provided history of tying up. The large jugular thrombus and segment of intestinal infarction support a hypercoagulable state; the focus of brain hemorrhage is interpreted as most likely secondary to thrombosis (as opposed to secondary to head trauma from acute collapse). The provided history indicates that this animal deteriorated rapidly during a procedure . Acute iatrogenic hemorrhage  was the cause of sudden shock and collapse. – Equine tying-up syndrome (Marked myonecrosis, myoglobinuric nephrosis)

20 month Belgian filly – was taken off pasture 3 weeks ago; emaciated, weak, tachycardic, recumbent. Seemed to improve then died. Dewormed days prior, no parasites on fecal. Unremarkable laboratory results.. Diagnosis: The emaciation and serous atrophy of all fat stores is the presumed cause of weakness and death in this case. The underlying cause is somewhat uncertain. Grossly there was a markedly enlarged/distended colon with flaccid walls suggesting that a degree of intestinal dysfunction was present though there was no concurrent evidence of devitalization of the intestinal mucosa. An underlying neurogenic cause was suspected, though histologically innervation to the intestine, and the intestine itself (mucosa through serosa) was largely unremarkable. Histologically numerous migrating larval nematodes (suspected to be Strongylus vulgaris) species were observed in sections of intestinal arteries, intestine and mesenteric lymph nodes. As aberrant migration has been reportedly associated with some changes to intestinal motility (due to inflammation following physical damage by the migrating nematodes) this remains a possible cause of the enlarged colon observed grossly. However, in the absence of any direct evidence of parasitic injury and inflammation to intestinal nerves, this remains supposition. No other intestinal parasites were observed, however this may not be truly representative of historic parasite burden in this filly due to recent history of anthelmintic use. Only one kidney was observed grossly and was histologically normal. This is suspected to be a congenital abnormality.
Alison Moore

(OMAFRA)

Nothing to report for Q4.

Of note there was a WNV case reported in Michigan on Nov 28, 2022. It is important that, with climate change, veterinarians are aware that vector borne diseases can occur later in the season than expected based on local weather patterns.
---
Syndromic  and AHL Laboratory Data Surveillance Dashboard
Survey – Key points
31 Counties represented
70% equine, 18% equine and food animal clinics responded; the remainder were equine and small animal, mixed animal and government.
Increase in (foal) Streptococcus zooepidemicus infection, Rhodococcus equi infection, fever of unknown origin, omphalophlebitis, ; (adult) equine asthma, pleuro/pneumonia, coronavirus, Lawsonia intracellularis, impaction colic, choke, Potomac Horse Fever, fecal water syndrome, surgical colics, EHM, EPM ringworm, lice, allergic dermatitis, pastern dermatitis, cellulitis, plasmacytic leukocytoclastic vasculitis, abortion due to umbilical cord torsion, PPID, EMS, FUO, respiratory outbreak, anaplasmosis, Lyme, peroneous tertius ruptures, ERU d/t leptospirosis, stromal abscess, immune mediated keratitis, P1 fractures, conjunctival foreign bodies (foxtail/burdock), coffin bone fractures.
New conditions or those without a diagnosis:
Fevers (39-40⁰C) of unknown origin in late fall or early winter with lethargy and inappetence, mild hind limb paresis, mild anemia on CBC, no inclusion bodies on blood smear, negative to Lyme and Anaplasma PCR, quickly responsive to oxytetracycline (1-3 days) followed by doxycycline 10-14 days.
Colic with fever. Responds to oxytetracycline but negative on all testing for pathogens.
Random haematomas on distal limb at 2 different locations that have been there for 2 months with horse not being lame or febrile. Culture did not yield microorganisms.
Antibiotic resistant bacterial infections
Abscesses over ventral girth area- two horses with identical lesions living in same field (neither one ridden) cultured Corynebacterium ulcerans from them. Responded to trimethoprim sulpha and the end of fly season.
Two cases corresponded to the description of summer sores- one on a donkey foal's muzzle and one on a horse's leg- both responded to ivermectin/steroid tx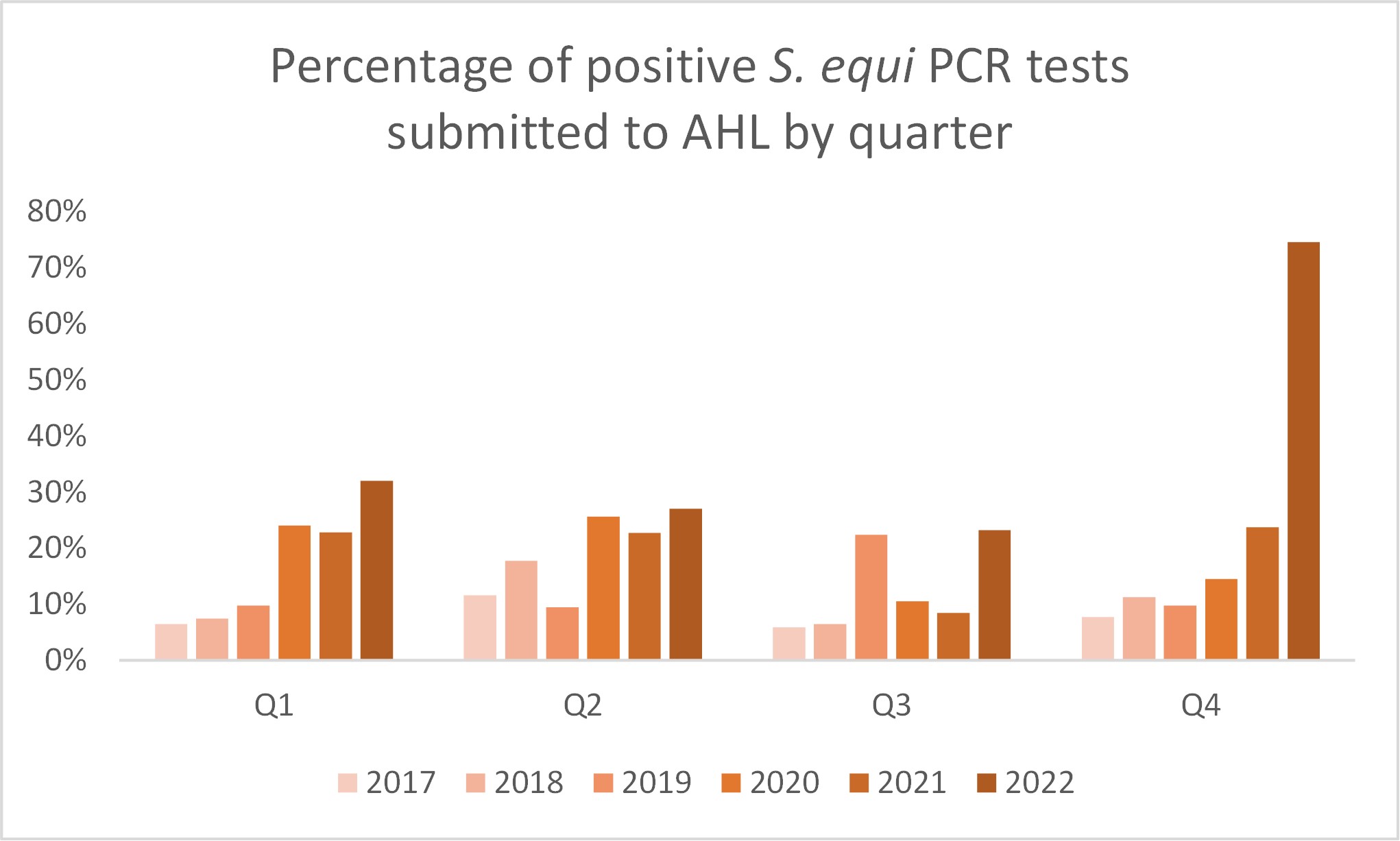 There was a significant increase in the percent of positive S. equi PCRs in Q4 2022 versus Q4 2021 due to ongoing outbreaks on a few farms.  Repeated testing to identify carriers as well as testing prior to moving horses to new facilities are likely contributing to the increase in the percent of positive tests.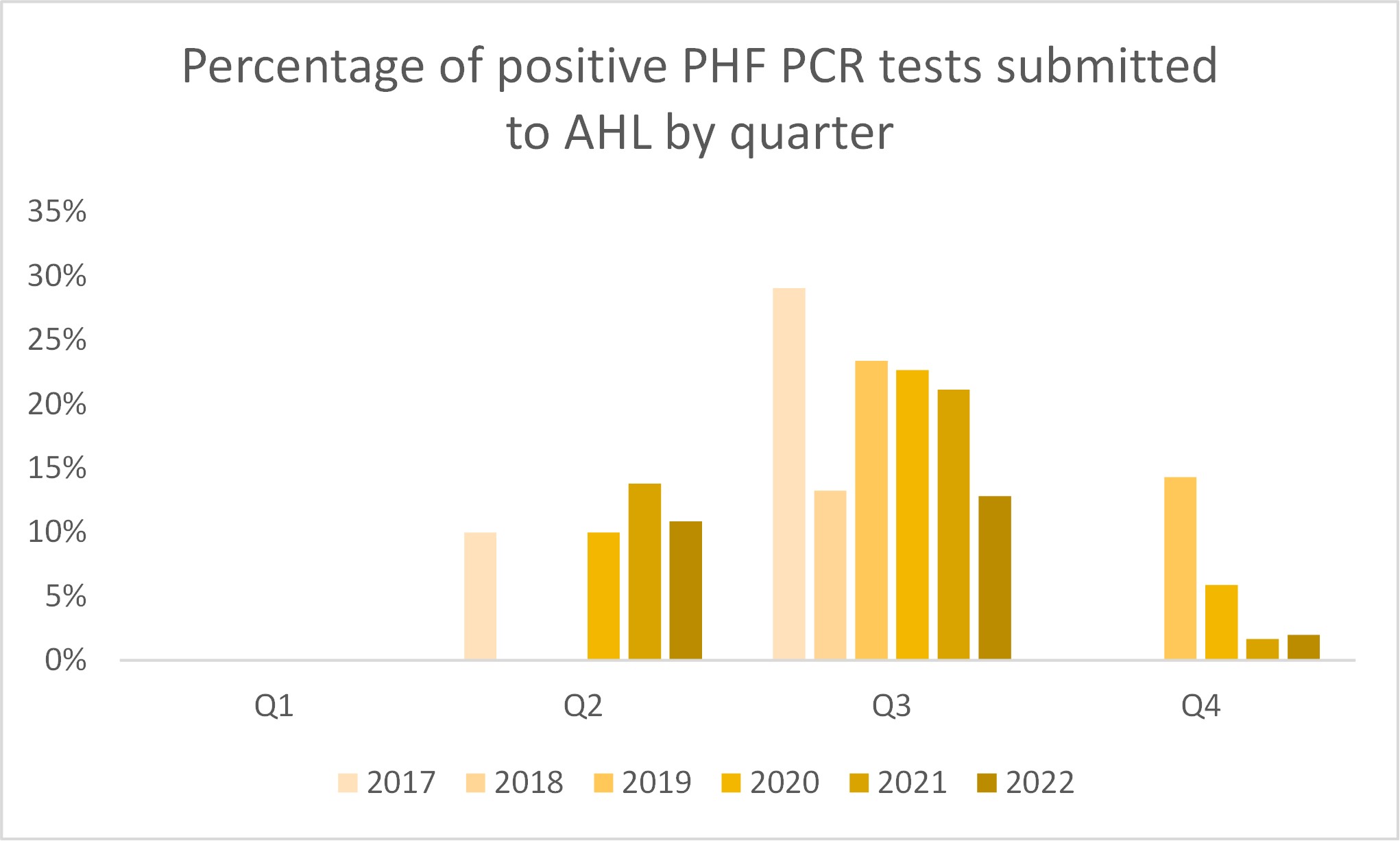 The percentage of positive PHF PCR tests in Q4 2022 (2%) was very similar to that in Q4 2021 (1.67%). compared to 2021. The overall trend shows an earlier detection of PHF (in Q2). Q3 is the main season for PHF.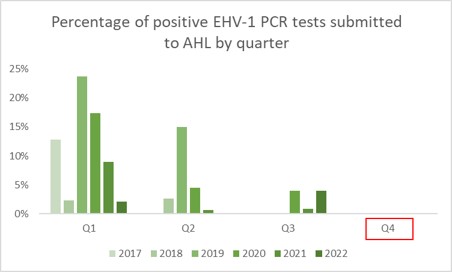 There were no positive tests for EHV-1 this quarter. Q1 is the most significant time for positive EHV-1 test results.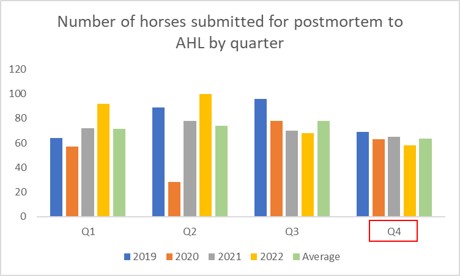 The number of horses submitted to AHL for postmortem in Q4 are slightly decreased to those of Q4 2021.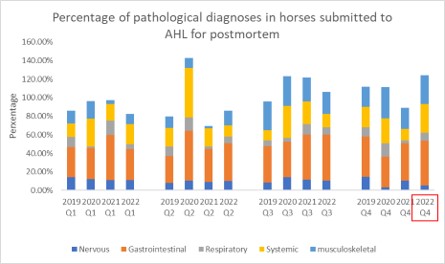 Trend towards an overall increase in all areas of pathologic diagnoses except "Nervous" when compared to Q4 2021.
---
Equine research from Ontario and around the world
Researchers in Ontario

Pilot Study on Annual Horse Movements by Air and the Possible Effect of the Covid-19 Pandemic.Felici M, Cogger N, Riley CB, Padalino B.J Equine Vet Sci. 2022 Dec 31;121:104208. doi: 10.1016/j.jevs.2022.104208
The fecal bacterial microbiota of healthy and sick newborn foals.Gomez DE, Wong D, MacNicol J, Dembek K.J Vet Intern Med. 2023 Jan;37(1):315-322. doi: 10.1111/jvim.16596. Epub 2022 Dec 14.PMID: 36519210 Free PMC article.
Fecal prevalence of Clostridium innocuum DNA in healthy horses and horses with colitis.Zakia LS, MacNicol JL, Borges AS, Yu S, Boerlin P, Gomez DE, Surette MG, Arroyo LG.Anaerobe. 2022 Dec 5;79:102681. doi: 10.1016/j.anaerobe.2022.102681

Cytologic scoring of equine exercise-induced pulmonary hemorrhage: Performance of human experts and a deep learning-based algorithm. Bertram CA et al. Vet Pathol. 2023 Jan;60(1):75-85. doi: 10.1177/03009858221137582. Epub 2022 Nov 17.PMID: 36384369 Free PMC article.
The combination of trailer transport and exercise increases gastrointestinal permeability and markers of systemic inflammation in horses. McGilloway M et al.Equine Vet J. 2022 Oct 9. doi: 10.1111/evj.13888.
Serum IgM antibody response to Clostridioides difficile polysaccharide PS-II vaccination in pony foals.Arroyo LG, Hodgins DC, Guest B, Costa M, Ma Z, Monteiro MA.Anaerobe. 2022 Oct;77:102635. doi: 10.1016/j.anaerobe.2022.102635. Epub 2022 Sep 3.
Researchers around the world

Gabapentin, a human therapeutic medication and an environmental substance transferring at trace levels to horses: a case report.Brewer K, Machin J, Maylin G, Fenger C, Morales-Briceño A, Tobin T.Ir Vet J. 2022 Oct 4;75(1):19. doi: 10.1186/s13620-022-00226-5.PMID: 36192810 Free PMC article.

JMM Profile: Japanese encephalitis virus: an emerging threat.Sewgobind S, Johnson N, Mansfield KL.J Med Microbiol. 2022 Dec;71(12).
Concentrations of dexmedetomidine and effect on biomarkers of cartilage toxicity following intra-articular administration in horses. Knych HK, Mama K, Oakleaf M, Harrison LM, McKemie DS, Kass PH.Am J Vet Res. 2022 Dec 12;84(2):ajvr.22.08.0146. doi: 10.240/ajvr.22.08.0146.PMID: 36476411 Free article.
A seasonal idiopathic hepatitis syndrome in horses presented to a Midwestern veterinary teaching hospital.Taylor SD, Kritchevsky JE, Huang P, Olave C, Waxman SJ, Miller MA.J Am Vet Med Assoc. 2022 Dec 7:1-7. doi: 10.2460/javma.22.08.0368. Online ahead of print.
Effects of low-dust forages on dust exposure, airway cytology, and plasma omega-3 concentrations in Thoroughbred racehorses: A randomized clinical trial. Olave CJ, Ivester KM, Couetil LL, Burgess J, Park JH, Mukhopadhyay A.J Vet Intern Med. 2023 Jan;37(1):338-348. doi: 10.1111/jvim.16598. Epub 2022 Dec 7.PMID: 36478588 Free PMC article.
Ocular penetration of oral acetaminophen in horses. Peraza J, Hector RC, Lee S, Terhaar HM, Knych HK, Wotman KL.Equine Vet J. 2022 Dec 8. doi: 10.1111/evj.13902. Online ahead of print.
A one-health approach to identifying and mitigating the impact of endocrine disorders on human and equine athletes. Manfredi JM, Jacob SI, Boger BL, Norton EM.Am J Vet Res. 2022 Dec 27;84(2):ajvr.22.11.0194. doi: 10.2460/ajvr.22.11.0194.PMID: 36563063 Free article.
Markers for internal neoplasia in the horse. Drozdzewska K, Gehlen H.Vet Med Sci. 2023 Jan;9(1):132-143. doi: 10.1002/vms3.1042. Epub 2022 Dec 10.PMID: 36495211 Free PMC article. Review.
Does lesion type or severity predict outcome of therapy for horses with equine glandular gastric disease? – A retrospective study. Pratt SL, Bowen M, Hallowell GH, Shipman E, Bailey J, Redpath A.Vet Med Sci. 2023 Jan;9(1):150-157. doi: 10.1002/vms3.1034. Epub 2022 Dec 10.PMID: 36495212 Free PMC article.
Locomotory Profiles in Thoroughbreds: Peak Stride Length and Frequency in Training and Association with Race Outcomes. Schrurs C, Blott S, Dubois G, Van Erck-Westergren E, Gardner DS.Animals (Basel). 2022 Nov 24;12(23):3269. doi: 10.3390/ani12233269.PMID: 36496790 Free PMC article.
An Investigation into the Effects of Changing Dorso-Plantar Hoof Balance on Equine Hind Limb Posture. Sharp Y, Tabor G.Animals (Basel). 2022 Nov 24;12(23):3275. doi: 10.3390/ani12233275.PMID: 36496795 Free PMC article.
Review of the Foundational Knowledge Required for Assessing Horse Welfare. Harvey AM, Ramp D, Mellor DJ.Animals (Basel). 2022 Dec 1;12(23):3385. doi: 10.3390/ani12233385.PMID: 36496906 Free PMC article. Review.
Global prevalence and risk factors of Cryptosporidium infection in Equus: A systematic review and meta-analysis. Li XM, Geng HL, Wei YJ, Yan WL, Liu J, Wei XY, Zhang M, Wang XY, Zhang XX, Liu G.Front Cell Infect Microbiol. 2022 Nov 25;12:1072385. doi: 10.3389/fcimb.2022.1072385. eCollection 2022.PMID: 36506009 Free PMC article._
The Role of Yeast Saccharomyces cerevisiae in Supporting Gut Health in Horses: An Updated Review on Its Effects on Digestibility and Intestinal and Fecal Microbiota.Perricone V, Sandrini S, Irshad N, Comi M, Lecchi C, Savoini G, Agazzi A.Animals (Basel). 2022 Dec 9;12(24):3475. doi: 10.3390/ani12243475.PMID: 36552396 Free PMC article
---
Interested in  Leptospira sp in wildlife?
The OAHN Wildlife network has completed a study looking at the changes to prevalence and serovars of Leptospira sp in wildlife. Read the report here.
Interested in the risk of rabies in imported dogs?
Visit the OAHN Need 2 Know: Rabies in Pets page for a recent white board video developed by the Companion Animal Network and Trivoli Films.  
ResearchONequine.ca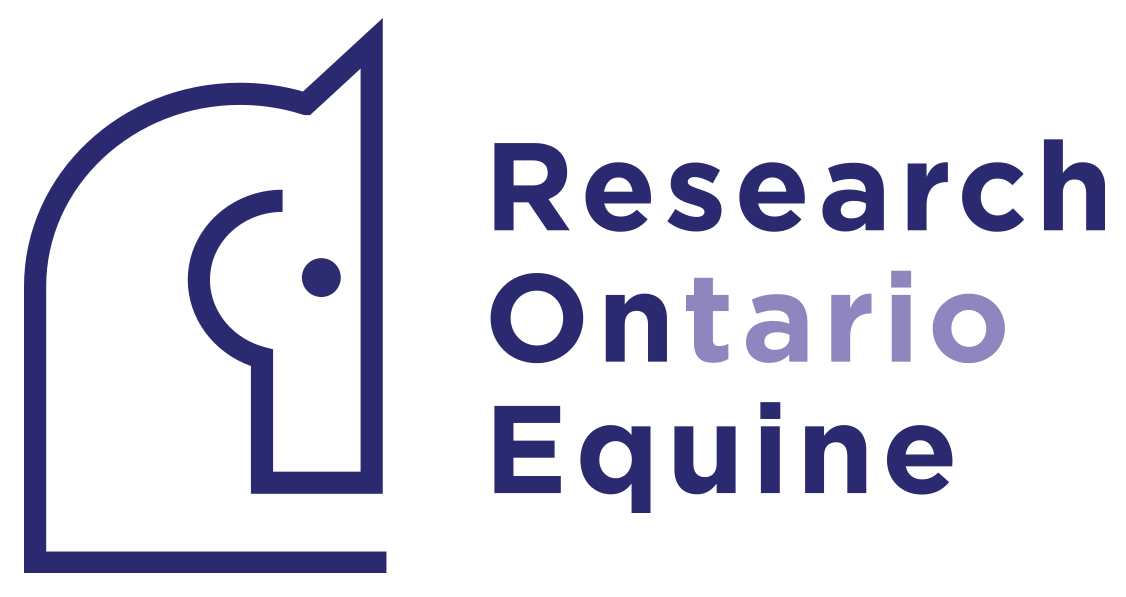 is a website developed by the Ontario Animal Health Network equine network to help increase research awareness and to connect researchers from academia, industry and government with the ultimate goal of improving the lives of all equines. It was supported by OAHN and the Ontario Association of Equine Practitioners.